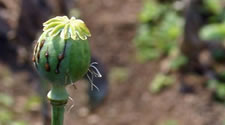 As the new year opened, the Taliban pushed deeper the Sangin district of Afghanistan's Helmand province, with the Afghan army struggling to retake territory newly won by the insurgents. Kabul has sent reinforcements, but as AP reported Dec. 29, police are refusing to return to the streets even of those areas the army has supposedly secured. According to Karim Atal, director of the Helmand provincial council, security forces are for now staying inside their base in Sangin district. And this isn't just another district in Afghanistan's rugged hinterlands. Sangin is a key opium-producing district in Helmand—itself both the heartland of the Taliban insurgency and Afghan poppy cultivation. It is also straegically localted on a corridor connecting Lashkar Gah, the capital of Helmand province, to the province's northern districts. So, as the BBC News states: "Regaining full control of Sangin would increase the Taliban's mobility in the north of the province and cut a key supply line for Afghan forces with Lashkar Gah. Sangin is also a rich opium production centre—meaning potential tax revenue for the Taliban from the drugs trade."
And as the Taliban regain strategic ground, ISIS continues to establish its Afghan foothold—ironically winning followers from the Taliban by taking a puritanical anti-opium stance. An all too revealing story from AFP news agency Dec. 27 reported that militiamen loyal to an influential Afghan politician beheaded four Islamic State fighters and publicly displayed their severed heads in Nangarhar province near the border with Pakistan. The militia force loyal to Haji Zahir, deputy speaker of parliament, has been battling self-declared ISIS militants in Achin district for weeks. "If they behead you, behead your son, do you expect us to cook sweets for them?," the political patriarch told reporters. "Sweets are not distributed during war. People die."
Let's hope the withdrawal of the US military in Afghanistan is not followed by the kind of disaster that has enused following the US withdrawal from Iraq.
Photo by Tennessee Wanderer