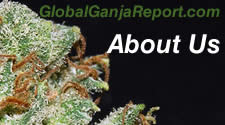 Global Ganja Report is edited by Bill Weinberg, an award-winning 30-year veteran journalist in the fields of human rights, drug policy, ecology and war. Weinberg was news editor at High Times magazine in the '90s, and is most recently the author of Cannabis Trips: A Global Guide that Leaves No Turn Unstoned (Ivy Press, 2009).
He is also author of Homage to Chiapas: The New Indigenous Struggles in Mexico (Verso Books, 2000) and is at work on Pachamama Returns: The New Indigenous Struggles in the Andes.
Since the immediate aftermath of 9-11, he has been producing his flagship website, CounterVortex, originally launched to monitor the new "war on terrorism." As a contributing editor at Native Americas, Cornell University's quarterly journal of hemispheric indigenous issues, he won three awards from the Native American Journalists Association for his reportage from Nicaragua, Mexico and Arizona.
For 20 years he co-produced the Moorish Orthodox Radio Crusade on New York's WBAI-FM, an anarchist-oriented talk show featuring the best in global music. He lives in New York's East Village.
Other Global Ganja Report contributors and bloggers have included Blibo, who produced the Cannabis Market Reports section; Loose Lucy, who edited the Global Gathering Report section; and Malka X, who also blogs for our sister publication New Jewish Resistance.