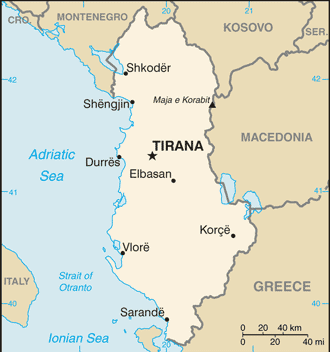 The Balkan country of Albania, trying to live down its pariah status as Europe's top cannabis producer, has cracked down hard in recent years, sparking instances of armed resistance from peasant growers. But despite repeated declarations that the country is "marijuana-free," the issue won't go away—and is coming to the fore once again as Albania seeks to join the European Union. The latest to lecture Albanian leaders is US ambassador Donald Lu, who this month warned that the country's criminal networks remain intact.
"Until the big fish are arrested, prosecuted and go to jail, the cannabis will return, judges will be bribed, and government officials will be corrupted," Lu told a gathering of jurists in the captial Tirana, Reuters reports.
Lu described Albania as "a center of organized crime activity, which includes trafficking in drugs, weapons and prostitution." He said four major Albanian clans control 20 families involved in a wide range of criminal ventures. "Albania has a substantial black market for smuggled goods, primarily tobacco, jewelry, stolen cars and mobile phones. The country remains at significant risk for money laundering because of rampant corruption and a weak legal system," Lu said..
Edi Rama, the socialist prime minister who won a second term in June elections, says he expects Albania to join the EU in the early 2020s. But before talks can start, Albania must show progress in curbing organized crime and judicial corruption. Financial Times reported in July that over the past year alone, the area under cannabis cultivation dropped by 75%. But the report also emphasized that hopes for legal cash-crops have remained elusive, and unemployed youth are still lured by the cannabis economy—despite growing police pressure.

And it didn't help Albania's EU aspirations when on Oct. 14, police in the United Kingdom announced 10 arrests in a crackdown on suspected Albanian gangs. Thew raids across Gloucestershire saw busts at six indoor cannabis grow operations. Invesigations are ongoing into possible human trafficking, as conditions for workers ar the grow sites were described as "very, very bad." Said one police source of the arrested suspects: "We will continue to look at the possibility they are victims of modern-day slavery, without turning a blind eye to criminality."

A legalization initiative in Albania, which could decouple the country's cannabis economy from the criminal networks and give struggling small famrers a fighting chance, has gained little traction since it was unveiled two years ago—in large part due to opposition from the US and EU.
Cross-post to High Times
Graphic: Perry-Castañeda Library Map Collection