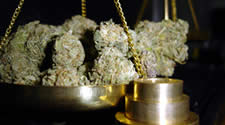 Medical marijuana patient, cultivator and former University of Montana Grizzlies quarterback Jason Washington was convicted Jan. 17 in federal court of two felonies, "conspiracy to manufacture and distribute marijuana" and "possession with intent to distribute marijuana," but was acquitted of another felony possession of a firearm in furtherance of a drug-related crime. Washington claimed to be in compliance with Montana's medical marijuana law but, as is typical with such federal cases, was denied a defense. He is facing a five-year mandatory minimum sentence, up to 40 years in prison, and more than $10 million in fines and forfeitures.
Washington and six others were arrested and similarly charged in November 2011, after the federal Drug Enforcement Administration (DEA) raided his Big Sky Health dispensary in Missoula. Five of his six co-defendants pleaded guilty and cooperated with the government's case against Washington, receiving far more lenient sentences than what he's facing—the longest only 125 days. Charges against the sixth defendant were thrown out by US District Court Judge Dana Christensen, who presided over the cases. Twenty other people in the case were never charged, and were offered immunity by the government to testify against Washington.
"Jason Washington is the latest casualty in President Obama's effort to undermine the implementation of state medical marijuana laws," said Kris Hermes, spokesperson with Americans for Safe Access, the country's largest medical marijuana advocacy organization. "Several Montana cultivators have been unnecessarily imprisoned recently, some with fatal consequences." Sixty-eight year-old medical marijuana cultivator Richard Flor died last year while serving out a 5-year prison sentence after being convicted in federal court, despite no evidence of state law violations. "When is the Obama Administration going to answer for its aggressive enforcement practices against state-compliant medical marijuana providers?" asked Hermes.
The DEA raid on Big Sky Health followed a series of federal raids in March 2011, at the same time the Montana legislature was considering a law that would have repealed the state's original medical marijuana law, Initiative 148, adopted in 2004. Shortly after the initial raids, in April 2011, US Attorney Michael Cotter sent a letter to the legislative leadership indicating that the Justice Department maintains the authority to enforce federal marijuana laws "even if such activities are permitted under state law," and that "investigative and prosecutorial resources will continue to be directed toward these objectives." The governor vetoed the repeal bill, but the raids and threats made by US Attorney Cotter spawned another restrictive proposal, Senate Bill 423, which ultimately was signed into law.
Notably, Washington's conviction came on the same day that a Helena district judge issued a second preliminary injunction, blocking the implementation of SB 423. In June 2011, Judge James Reynolds issued a temporary injunction against the restrictive law, but the injunction was reversed in September 2012 by the Montana Supreme Court. After hearing testimony from numerous patients and using a different standard to determine the extent of one's rights under state law, Judge Reynolds issued a more thorough but similarly conclusive ruling yesterday.
The Obama administration has indicted more than 80 patients and providers since he took office in 2009, a number of whom were recently sentenced and incarcerated. Chris Williams, the only other Montana medical marijuana cultivator to endure trial, recently accepted a rare post-conviction plea deal for a mandatory minimum of five years and will be sentenced Feb. 1. Washington is currently released and does not yet have a sentencing date. (ASA, Jan. 18)
Photo by the Mad Pothead