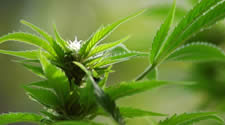 Conservatives opposed to Arizona's medical cannabis initiative, Proposition 203, are raising the specter of "cannabis caravans" rolling through the state doling our doctor's recommendations and herb in one-stop shopping. But proponents say the measure is too restrictive for that.
Prop 203—the Medical Marijuana Act, identifying specific illnesses that would qualify patients to use cannabis—was placed on the ballot by citizen initiative. Proponents say Arizona's measure has more regulation than in the 14 other states that have such laws. "It is a very detailed and well-regulated piece of legislation," said Andrew Myers, of the Arizona Medical Marijuana Policy Project. "Prop. 203 is entirely unique. We do an excellent job of limiting the medical marijuana, and restricting who can sell it."
Cities and counties are working on zoning restrictions that would preclude cannabis caravans—and the law itself prohibits sales in the vicinity of schools. While Prop. 203 is specific about what kind of illnesses would qualify a patient to use cannabis, opponents say the category of "chronic pain" opens the gates for abuse. "This is not about medicine. It is a backdoor route to legalization," said Carolyn Short, chairperson of the Keep AZ Drug Free campaign. "This gives marijuana users unprecedented protections.. It is a disaster for employers, which is why the Arizona Chamber of Commerce is supporting our efforts"
Under Prop. 203, employers would not be allowed to discriminate in hiring, terminating or imposing any other condition of employment against registered cannabis cardholders, even if the cardholder has a positive drug test for marijuana. It does not allow workers to be impaired on the job, however. (Arizona Daily Star, Oct. 2)
Photo by Drome