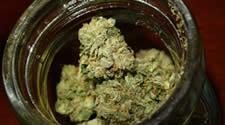 Four California medical marijuana users who argue that bans on Orange County pot clinics violate the Americans with Disabilities Act appealed their case to the US 9th Circuit Court of Appeals. Matthew Pappas, attorney for the users, said he will argue the case based on an interpretation of the equal protection clause in the 5th Amendment, and pointed to a 2009 congressional decision based on the clause that lifted a ban on medical marijuana in Washington DC.
In April, a federal judge refused to prevent two Orange County cities, Lake Forest and Costa Mesa, from banning cannabis dispensaries. US District Judge Andrew Guilford ruled that the Americans with Disabilities Act law does not allow the use of marijuana, even by patients in California with authorization from their doctors.
But last year's policy change by Congress has opened the door for new arguments, Pappas said. After Congress made it legal for dispensaries to operate for medical patients in Washington DC, the District of Columbia passed a law allowing cannabis clinics within its jurisdiction.
Since February, Costa Mesa has been enforcing its 2005 law that bars cannabis dispensaries operating within the city. Police have made arrests for sales and possessions and in some cases 48-hour cease-and-desist orders were issued. (AP, May 15)
Photo by the Mad Pothead