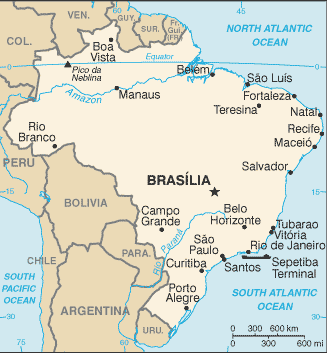 For the second year in a row, Brazil has witnessed a deadly prison riot on the first day of the year. A death toll of nine is reported from the central state of Goias. One inmate was decapitated. The violence began New Year's Day afternoon at the rural penitentiary in the outskirts of the state capital, Goiania. Rival criminal factions clashed, broke the barriers of the compound and escaped, by the BBC News account.
Some 30 escaped inmates have been apprehended, but nearly 80 remain at large. At least 14 prisoners have been wounded in the fighting.
Military Police riot troops have been mobilized to Goiania, including the elite Special Penitentiary Operations Group (GOPE), Globo reports.
There is an eerie sense of deja vu to this latest grim manifestation of the unrelenting prison crisis in Latin America. Last year's New Year's Day prison riot in Brazil's Amazon riverport city of Manaus left up to 60 dead.

Cross-post to High Times


Graphic: Perry-Castañeda Library Map Collection