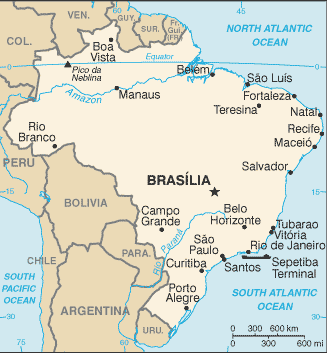 Brazil's ongoing favela wars have taken a dramatic turn for the bloody—prompting the government to send military troops into Rio de Janiero's notorious Rocinha. This is the most violent of the city's sprawling favelas—informal urban settlements virtually abandoned by the government for anything other than militarized anti-drug operations. The army on Sept. 22 deployed nearly 1,000 troops in Rocinha, responding to a request from the Rio state government, Defense Minister Raul Jungmann told local TV.
Rio Times reports that the violence in Rocinha is the deadliest since the launch of a "pacification" program in 2011 to push warring narco-gangs out of the city's favelas.
After hours of intense gun battles, security forces said they arrested a main figure, Luiz Alberto Santos de Moura AKA "Bob do Caju"—held responsible for at least four deaths in Rocinha over the past week. According to Rio's Civil Police, Bob do Caju is locked in a power struggle with rival gang-boss Antônio Francisco Bonfim Lopes AKA "Nem"—now imprisoned at Porto Velho Federal Penitentiary. A henchman named as Rogério Avelino da Silva AKA "Rogério 157" is said to be controling Nem's operations in Rocinha as a proxy.
Control over Rio's Amigos dos Amigos (Friends of Friends) cocaine gang is said to be the goad of the conflict. Bob do Caju was arrested in the nearby area of Ilha do Governador, where he was hiding—and from where he was said to have organized the Sept. 17 "invasion" of Rocinha. Ten assualt rifles were found in the raid on his hide-out.

Amid all this, one of Brazil's most revered athletes, former Inter Milan football star Adriano, made embarassing headlines when a photograph emerged of him hanging out with Rogério 157.
Rio Times quoted an English expatriate living in Rocinha, Jody King, who works as a DJ and operates the Favela Phoenix non-governmental organization. King described what it was like to be in Rocinha as the troops poured in: "The gunfire went on for five hours non-stop, the electricity went out, we could hear grenades going off, plumes of smoke going up all over the favela. It was like a war zone. And still is."

Cross-post to High Times


Graphic: Perry-Castañeda Library Map Collection