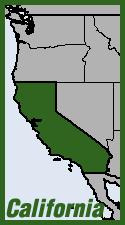 California state authorities have issued new regulations governing the legal cannabis market that is to be officially instated on Jan. 1. Jointly drawn up by the Department of Health, Department of Food & Agriculture and the new Bureau of Cannabis Control, the regs are meeting with some trepidation from the Golden State's traditional cannabis sector. Most controversially, many small growers were disappointed that the regs include no limit on the number of licenses a single grower can hold or the total acreage one can farm.
Spectre of corporate cannabis
This has enflamed fears that ag-biz could quickly overwhelm local producers and dominate the market. "Frankly, this could be a catastrophe," Hezekiah Allen, executive director of the California Growers Association, told the San Francisco Chronicle. "It creates a clear cut-and-dried advantage based on how much money a business has."
State Sen. Scott Wiener echoed these concerns. "By not limiting the amount of land that can be cultivated by any one operation, we are basically inviting mega industrial-scale operations into the state," the San Francisco Democrat told the Chronicle. "It will squeeze out the small farmers that have been at the forefront of the industry for many, many years."

With a touch of cynicism the Chonicle recalled that Lt. Gov. Gavin Newsom, a big backer of the 2016 voter initiative for legalization, said at the time that there would be no "new gold rush" of corporate cannabis. But "Newsom, who is running for governor, appears to be fine now with allowing for big growers."

Whither cannabis 'equity'?
Then there are controversies surrounding the permits for recreational cannabis outlets that must be issued by both local and state authorities.

Oakland city officials are reviewing 255 applications from individuals seeking permits to operate cannabis cultivation, distribution or sales outlets. The city's eight medical marijuana dispensaries have been grandfathered in and are not required to go through the application process—although they will still need state licenses to operate as of Jan. 1. The eight grandfathered outlets are Harborside Oakland (the former Harborside Health Center, with big expansion plans), Oakland Community Partners, Purple Heart Patient Care, Oakland Organics, Blum, Magnolia Wellness, Phytologie and Telegraph Health Center.

Oakland's ordinance stipulates half of all permits must go to people who qualify under the city's Equity Permit Program—aimed at addressing the issues of social and racial justice around the cannabis economy. Qualifying for "equity permits" are those who have been convicted of a marijuana-related offense in Oakland, who earn an income less than 80% of the city average, or who have lived at least 10 years in an Oakland neighborhood that saw a high number of cannabis arrests. Of the city's 255 applications, 129 are from equity applicants.

But the equity program is meeting with some dissent from the industry. Robert Selna, an Oakland-based land-use attorney who represents cannabis enterprises, told the Chronicle: "The city is choosing winners and losers. If you are an equity applicant, or you happen to have the resources to incubate an equity applicant, you're a winner. If you are neither of those, then you're a loser."

Sacramento councilmembers are also considering an equity project, to the approval of Erika D. Smith in the Sacramento Bee, who asks: "[A]ll I want to know is whether the black and brown people who sold cannabis during the dark years of the war on drugs, and went to prison for it in disproportionate numbers, will benefit from the newly legal, multibillion-dollar industry."

Affluent Marin County, where equity is less of a concern, has meanwhile bucked its hippie reputation and rejected all 10 applicants so far, leaving many to wonder if legal cannabis will now be allowed there at all.

Reefer madness in San Francisco?
An unlikely anti-cannabis backlash has also been seen in San Francisco. Plans by Apothecarium company (with dispensaries in the city's Castro, Marina and SoMa districts) to open an outlet in the Sunset neighborhood were scuttled in October when the Board of Supervisors upheld an appeal filed against the business. "In the eyes of federal law, the Apothecarium is no different from a street-level crack dealer," said Ray Hacke, a lawyer for the conservative Pacific Justice Institute, speaking to the Chronicle. The Institute was accused of playing on the fears of traditional residents in the heavily Asian American community to mobilize them against the dispensary.

Suprevisor Katy Tang, who represents the Sunset and ultimately voted with the 9-2 majority against the dispensary, also had some harsh words for the Pacific Justice Institute. "I know you've latched onto many of the battles that have happened in the city, and particularly in the Sunset," she said. "Please stay out of it."

In another move that has disappointed the local industry, San Francisco's Muni transit system has banned cannabis ads from its trains and stations.

Toxic threat from wildfires seen
Finally, the countdown to legalization comes at an inauspicious moment, with many growers already hard hit by the wildfires that have devastated Northern California this fall. In addition to much of the harvest being lost, Mendocino-based Project CBD is raising fears that much of what was saved may now be contaminated. In a statement, Project CBD said it "hopes that some lab in California will validate methods and offer tests to detect the major contaminants that result from the wildfires. We expect these will include benzene, toluene, benzopyrenes, and heavy metals, as well as some dioxins and polychlorinated biphenyls."

Not exactly favorable publicity for the nascent legal industry.

Cross-post to High Times