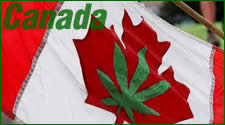 Prime Minister Justin Trudeau introduced legislation to legalize the recreational use of cannabis in Canada April 13, following through on a campaign pledge and ending a long wait by advocates and entrepreneurs. The new law would allow adults 18 and over to possess or share up to 30 grams of dried herbaceous cannabis, and to purchase cannabis or cannabis oil from retailers, to be regulated at the provincial level. Canadians would also be allowed to grow up to four plants per residence for personal use, and to prepare legal cannabis products at home. Cannabis-infused edibles are to be available for sale after the regulatory framework is developed and brought into force.
"If your objective is to protect public health and safety and keep cannabis out of the hands of minors, and stop the flow of profits to organized crime, then the law as it stands today has been an abject failure," Public Safety Minister Ralph Goodale told a news conference, according to the Canadian Press. "Police forces spend between $2 billion and $3 billion every year trying to deal with cannabis, and yet Canadian teenagers are among the heaviest users in the western world… we simply have to do better."
"This is a very important day," added Bill Blair, the former Toronto police chief who oversaw the government's Task Force on Cannabis Legalization and Regulation: "I've spent most of my adult life keeping children and communities safe."

Sales are to be restricted to those age 18 and older under the bill, although provinces would have the jurisdiction to set their own minimum age. Possession, production and distribution outside the legal system would remain illegal, as would imports or exports without a federal permit. And those permits would cover only limited purposes, such as medical or scientific cannabis and industrial hemp. Travellers entering Canada would still be subject to inspections for prohibited substances, including cannabis. Canada's medical marijuana program would continue as it currently exists.
Goodale warned that the government will not tolerate a "free-for-all" approach. That means Canada's some 40 Licensed Producers, now cultivating for the medical program, stand to dominate the legal market, Vahan Ajamian, a research analyst at Beacon Securities, told Canada's Financial Post. He believes the bill could set off a wave of mergers and acquisitions among cannabis companies. "In the way we don't have 40 independent producers of beer or cigarettes eventually we won't in this industry either," he said.
The proposed Cannabis Act does not explicitly bar adverstising, but "prohibits any promotion, packaging and labelling of cannabis that could be appealing to young persons or encourages its consumption, while allowing consumers to have access to information with which they can make informed decisions about the consumption of cannabis."
Veteran Canadian activist David Malmo-Levine, contacted by HIGH TIMES, had this to say about the proposed legislation: "It's good if you limit your participation in the pot community for an ounce per person or four plants per household, but about 95% of the growers and dealers remain criminals, as do the underage smokers—30 to 50 percent of users depending on if the age cutoff is 18 years old or 25 years old."

If the bill passes, Canada will become the largest developed nation to end cannabis prohibition.

Cross-post to High Times
Photo by PhotoPhreak