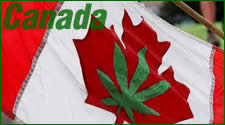 Police in Canada are actually anticipating more cannabis-related arrests after legalization, due to expected increases in driving while high and other such offenses. Meanwhile, Trudeau's promised expungement of prior cannabis-related criminal records does not appear to be imminent. And US immigration authorities say they will treat Canadians involved in the legal industry as "traffickers."
Canada's Prime Minister Justin Trudeau has set Oct. 17 as the date when cannabis legalization will take effect in the country. And while the industry is anticipating a boom, there are growing ominous signs that legalization may in some ways paradoxically mean less freedom for individual tokers.
Highway crackdown in the offing?
The Vancouver Courier this week presents us with the disconcerting headline, "Pot legalization will mean more work for police in BC." The newspaper quoted Eric Stubbs, the RCMP assistant commissioner for British Columbia, saying, "It's not going to be less work because it's legalized. It's going to be more."

Stubbs particularly cited an anticipated increase in driving under the influence of cannabis, and insinuated an imminent crackdown. "We have a new, robust program on hand to spot impaired drivers," he said. "We certainly have to be ready for it."
The question of cannabis-impaired driving is a complicated one, but Canadian lawmakers have given the country's police a sweeping law aimed at suppressing it. This is Bill C-46, which was passed by Ottawa over the summer in resonse to the passage of C-45, the Canadian Cannabis Act. Under C-46, motorists with two to five nanograms of THC per milliliter of blood will face fines of up to $2,000 (Canadian). Drivers exceeding the five-nanogram limit, or with both THC and alcohol in their systems, could actually face 10 years in prison.

But Rob De Luca, director of the Canadian Civil Liberties Association's public safety program, protested to the Washington Post that "the link between THC levels and impairment is quite loose."

Bill C-46 will also give police the power to stop any driver they reasonably suspect is under the influence of cannabis. As the Canadian Broadcasting Corporation notes, previously this just applied to alcohol. But cannabis does not cause loss of motor control as alcohol does, typically causing erratic driving such as weaving. So it is unclear what criteria police will use to make a determination about when a motorist can be stopped on suspicion of cannabis use.

Even before C-46 was passed, some of Canada's provinces were instating their own laws to crack down on cannabis use on the roads. Under Nova Scotia's Cannabis Control Act, passed as legalization made its way through the federal parliament earlier this year, those deemed to be high behind the wheel could face a $10,000 fine. As the Canadian Broadcasting Corporation noted, the law also makes it illegal for anyone other than the Nova Scotia Liquor Corp. to sell cannabis in the province. Violators of that provision will face a fine of up to $25,000. Those who purchase from anyone other than the NSLC may be fined $250.

The federal Cannabis Act will allow those over 18 to possess up to 30 grams of legally-produced cannabis, and allow adults to grow up to four plants per household. But the provinces have been given broad leeway to instate their own regulations—including prohibitions on cultivation—creating a confusing policy patchwork.
Expungement: not in the cards, for now
One promise of Canadian legalization was that those previously convicted of possessing cannabis in the quantities covered by the new law would have their records expunged. In January, the Trudeau government made clear such an "amnesty" would not be instated until after the federal government's legalization framework is in place. A measure introduced by the left-opposition New Democratic Party to instate an immediate amnesty failed when Trudeau's Liberals voted against it. "That's not an item that's on the agenda at the moment," the administration's Public Safety Minister Ralph Goodale told Macleans.

According the Macleans report, in 2016 (the last year data was available for), 58% of all police-reported charges related to Canada's Controlled Drugs and Substances Act (about 55,000) specifically concerned to cannabis—and of those offenses, some three-quarters were for simple possession. Under current law, those convicted of a "summary possession" offense (meaning under 30 grams) must wait five years to apply for expungement under the Criminal Records Act—assuming all outstanding sentences have been completed. Of course, under the new Cannabis Act, possessing that quantity will be legal for adults.

US immigration authorities intransigent
Then there's the response to Canadian legalization from US authorities—which, as might imagine, has been unhelpful in the extreme.

Apparently, Canadians who work in the cannabis industry—or even those who merely invest in it—could face a lifetime ban on travel to the United States.

The US Customs and Border Protection agency will continue to apply standing laws and regulations that treat cannabis as a prohibited substance—and those involved in the cannabis industry as drug traffickers who are inadmissible for entry into the country. This according to Todd Owen, executive assistant commissioner for CBP's Office of Field Operations, speaking to Politico this week.

"Our officers are not going to be asking everyone whether they have used marijuana, but if other questions lead there—or if there is a smell coming from the car, they might ask," Owen told Politico. And cannabis residue, which can linger for weeks inside an automobile, could be detected by CBP inspection dogs and lead to further questioning, he stated. "If you lie about it, that's fraud and misrepresentation, which carries a lifetime ban," Owen said.

Cross-post to Cannabis Now
Photo by PhotoPhreak