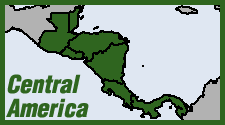 A joint security force bringing together the three nations of Central America's Northern Triangle officially began operations to fight narco-gangs and organized crime on Nov. 15. The force is made up of military, police, intelligence and border officials from Guatemala, Honduras and El Salvador—which all face growing internal violence from criminal networks. The force was officially inaugurated at a ceremony in the Honduran border town of Ocotepeque, near the point where the three countries meet. The presidents of all three nations were in attendance.
The official name is the Fuerza Trinacional contra las Maras y Pandillas, or Tri-national Froce Against Maras and Gangs—the prior name refering to the Mara Salvatrucha criminal network, and its various affiliates and factions. The force will primarily monitor and police criminal activity along the 600 kilometers (375 miles) of border shared by the three nations, attempting to prevent the gangs from retreating to one country in response to a crackdown in another.
The joint force is part of the "Alliance for Prosperity" plan, launched with Washington in 2014 in response to the crisis of child refugees fleeing narco-violence in Central America. But the fate of the Alliance is unclear after last week's election of Donald Trump.
The Central American governments are meanwhile seeking other sources of military aid. Honduran President Juan Orlando Hernández this week announced that Israel will help beef up his naval and air forces as part of an accord just approved by his parliament. "We want to reinfoirce our fleet of planes and helicopters to guard our coasts and the inhospitable zones of our territory," he said, obviously refering to the remote Miskito Coast, long a haven for smugglers.
Cross-post to High Times