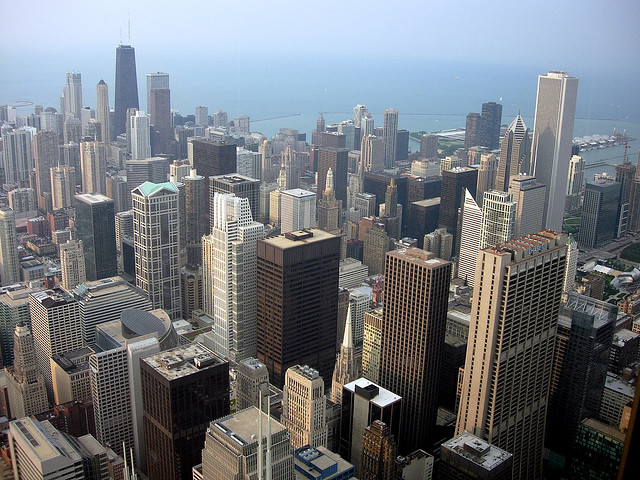 Unprecedented hearings before a panel of nine federal judges at the Dirksen US Courthouse in Chicago opened Dec. 14, charged with determining whether there was a pattern of racial bias in sting operations by the Bureau of Alcohol, Tobacco, Firearms and Explosives (ATF) dating back to the 1990s. The hearings were called to resolve a dozen separate cases involving more than 40 defendants. An overflow courtroom was set up to handle the crowd, Chicago Tribune reports.
The cases concern what the Associated Press calls "phony drug stash-house stings" in which undercover agents dupe their targets into into agreeing "to rob drugs that don't exist from stash houses that are also fictitious." The 40-plus convicts could walk free if the panel finds that discrimination was widespread the stings.
Star testimony came from Jeffrey Fagan of the Federal Criminal Justice Clinic at the University of Chicago Law School, which is leading the effort to have the cases overturned. He concluded that the disparity between Black or Latino defendants and white defendants in the stings was so large that there was "a zero percent likelihood" it was due to chance, according to the Tribune. Fagan examined the cases of 94 defendants in 24 stings conducted between 2006 and 2013, finding that 74 were Black and only a handful white.
In cross-examination, Assistant US Attorney Andrianna Kastanek noted that many of the stings targeted Black street gangs like the Gangster Disciples and Four Corner Hustlers on Chicago's South Side, or Latino gangs in the Joliet and Palatine suburbs.
"What do you think the racial makeup of the Latin Kings is?" Kastanek asked. "They're predominantly Latino," Fagan answered. Kastanek shot back: "And how about the Black Disciples?"
Kastanek stressed that some ATF operations were part of a 2010 law enforcement "surge" in coordination with Chicago police, designed to reduce violence in Chicago's Englewood district, which is largely African-American. But the Chicago Police Department was itself recently censured by federal authorities for civil rights abuses, so we aren't sure this constitutes an exoneration of ATF tactics.
The issue emerged four years ago, after US Judge Ruben Castillo, hearing one sting case, ordered prosecutors to turn over to defense attorneys details on how the stings are run and the racial background of the defendants charged. After the University of Chicago team got involved, another ruling in July 2015 by the Seventh Circuit Court of Appeals resulted in the government turning over more data on the stings.

In addition to the racial disparity in the cases, some see fabricated threats. "They are cases where the ATF comes up with an imaginary house, supposedly in which there are drugs and all sorts of money being stored there. Then they talk to people they convince to rob the house," defense attorney Richard Kling told Chicago's WLS Radio.
This is a trick also seen in numerous high-profile federal terrorism cases: usually, harmless hot-heads are fed a plot concocted by an FBI infiltrator posing as an operative from ISIS or al-Qaeda or whatever. And of course, it is routinely used in drug stings. Getting the public to question the legitimacy of this tactic could be the next order if the cases are found to have been discriminatory.
Photo by Gravitywave