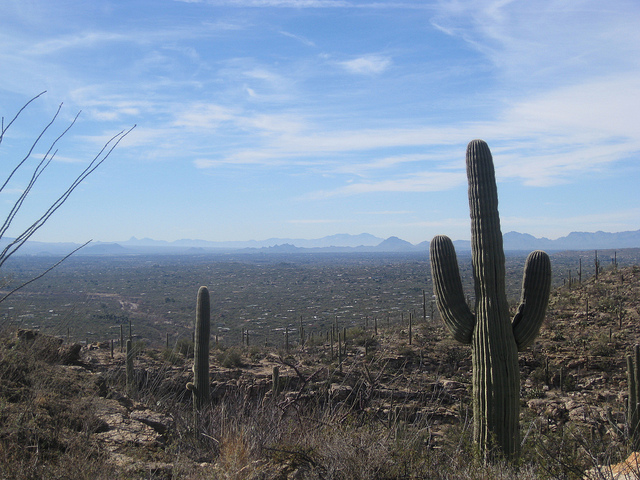 Barely a week goes by without a scandal involving a New Mexico law enforcement officer making the headlines in the state. Angelo Vega, the former police chief of the border town of Columbus, pleads guilty to extortion and trafficking arms destined for La Linea criminal organization, one of the protagonists in the so-called Mexican drug wars.
At Albuquerque's iconic Frontier Restaurant on historic Route 66, where the stern mug and big brim of John Wayne hangs tall, a Bernalillo County sheriff gets involved in a dispute over a table that ends with the officer's friend, a former Texas deputy, pulling a gun on an unarmed man.
The deputy is fired but not before a video showing the confrontation gets ample play on the Internet. In separate trials last month, an Albuquerque cop gets six months in jail for tipping off a friend who was the subject of a federal drug investigation, while a former Santa Fe County sheriff begins serving a three-month jail sentence for stealing department equipment and peddling it on E-Bay.
"I got greedy," former Sherriff Greg Solano was quoted, as he prepared to hunker down in the hoosegow.
Meanwhile, former Albuquerque Police Department (APD) officer Levi Chavez who is charged with the 2007 murder of his wife in a case that could involve a crime ring that was sending stolen cars to Mexico, pleads not guilty. Earlier this year, the city government of Albuquerque paid out $230,000 to Tara Chavez's family in a settlement of a wrongful death lawsuit.
And in a recent 18-month period, fatal shootings of civilians by members of the APD claim 14 dead.
"I was shocked. I was numb," said Steve Torres, father of Christopher Torres, who was shot to death during the serving of an arrest warrant by APD on May 10 of this year. "I couldn't do anything. I was paralyzed." Torres spoke at a recent public forum in Albuquerque sponsored by the ANSWER Coalition, a national anti-war and anti-racism organization with a local presence.
"The epidemic of unwarranted violence against Albuquerque residents constitutes a civil rights emergency," ANSWER contended in a press release announcing the event. "The flagrant use of lethal force by APD officers ranks among the highest in the nation. All these shootings must be thoroughly investigated..."
The controversies swirling around the deaths of Torres and others have tested governance and are renewing a crisis of public confidence in law enforcement and the justice system. Mostly, the Albuquerque victims were young Latino males. Many coped with severe emotional or mental disorders, and were even documented as such in police files prior to the shootings.
One victim was an Iraq War veteran who suffered from Post-Traumatic Stress Disorder (PTSD). Some were shot in the back or found with weapons like a plastic spoon or a small wooden crucifix, according to family members. Routinely, grand juries rule the shootings as justifiable.
At the Albuquerque forum, a leading member of the New Mexico branch of the League of United Latin American Citizens (LULAC) delivered a stinging critique of law enforcement management in the Land of Enchantment.
A "culture of corruption and cover-up" pervades the state's police departments, charged Dennis Montoya, civil rights chair for New Mexico LULAC. A longtime civil rights attorney who also worked as a deputy district attorney in Las Vegas, NM, Montoya contended that many good officers serve the public but that the institutional character of the state's different police agencies ranges from "bad to worse."
More than a few of the state's residents agree with Montoya. Apart from immigration, the bountiful stories involving different New Mexico police forces draw the most numerous and stinging commentaries on Internet news sites.
Commissioned by the city of Albuquerque, a survey conducted by Research and Polling Inc. earlier this year revealed that a majority of the 406 respondents agreed that APD was diligent in its duties, but almost half the people questioned opined that the local cops did not respect the public.
In a call-in program on Albuquerque public/community radio station KUNM this past summer, several callers complained of racial profiling, the hiring of officers who had previously been dismissed from other police departments, possible PTSD disorders suffered by recruits with military service and the tolerance of "thumpers," or cops with a penchant for brutality.
A guest on the show, Albuquerque Police Chief Ray Schultz defended his department's policies. Schultz said he had fired 35 officers during the past two years and had identified 17 areas for professional improvement. "We haven't stuck our head in the sand," Schultz said.
Yet even as controversy was boiling over in New Mexico's biggest city, the policing crisis hit another high mark this past July when Albuquerque Public Safety Director Darren White, already under fire for police-involved shootings and other scandals, suddenly resigned after a traffic accident involving his wife.
According to press accounts, Kathleen White was directly taken to the hospital by her husband and not examined for possible impaired driving. A report by the city inspector general exonerated White of any wrong-doing last week. Also a former Bernalillo County sheriff and New Mexico state police official, White has been a longtime fixture in New Mexico Republican politics.
The unexpected departure of White came only days after he was quoted acknowledging that APD grappled with "serious problems" and employed officers who had put a "stain on the department."
White's resignation did not quell public clamor over APD's leadership. Family members of men slain by the local police and their supporters packed city council meetings, demanding the US Department of Justice (DoJ) conduct an investigation of APD for civil rights violations. And they successfully lobbied the Albuquerque City Council to pass a bill supporting a DoJ probe.
The DoJ bill quickly became the focus of serious political skirmishing. In an Aug. 1 vote largely divided by party lines, city councilors passed a bill 5-4 urging an official city request for a DoJ investigation. Republican Mayor Richard Berry promptly vetoed the bill.
Berry laid out several reasons for his veto. The first-term mayor said his administration had previously brought in experts from the Police Executive Research Forum (PERF) to do a ninth-month study on police use of deadly force. According to Berry, the PERF confirmed that the city already had mechanisms in place to "manage and investigate officer-involved shootings," and that existing procedures were "consistent with those found in progressive law enforcement agencies throughout the United States."
Headquartered in Washington DC, the PERF defines itself as an organization of progressive police professionals dedicated to developing best practices and contributing to public policy debates. "Nationwide concern about perceived police misconduct in a number of urban, particularly minority, communities prompted PERF to convene police chiefs and community leaders to discuss anti-crime measures and police tactics," the PERF states on its website.
Berry stated that the PERF study did not identify systemic problems regarding police training, but outlined 39 recommendations for improvements within APD. Additionally, Chief Schultz has come up with 19 additional changes, Berry said in a statement regarding the veto.
"Overall use of force has decreased along with violent crime in Albuquerque," Berry insisted, pledging to work with all parties "towards community outcomes that result in fewer officer-involved shootings and use of deadly force..."
Lacking enough votes to override Berry's veto, the city council bill foundered. Nonetheless, the DoJ has initiated a review of civil rights violations allegations to determine if a thorough federal investigation is warranted.
At a September 19 meeting, City Council vice president Rey Garduno reintroduced a DoJ-related bill. The bill noted that the City of Albuquerque would cooperate with a federal agency that had already initiated a review. The measure was unanimously approved across party lines.
"A local law enforcement agency cannot be effective unless it reduces crime, protects individual constitutional rights and engenders confidence," Garduno's bill declared.
Citizen groups including the Martin Luther King Jr. Center, LULAC, Vecinos Unidos, the ANSWER Coalition and others continue to demand leadership changes and policy overhauls within APD, as well as legal accountability for officers who have committed civil rights violations.
The activists and family members contend that an institutional impunity prevails, punctuated by rubber-stamp grand juries, an unelected and ineffective police review commission, missing police reports, bureaucratic foot-dragging, and a long line of complicit mayors of all political stripes.
"We shouldn't hate the officer behind the uniform," the ANSWER Coalition's Joel Gallegos said. "It's the uniform. It's the system itself."
The public demands for justice and change are nothing new.
In another presentation at the ANSWER forum, Andres Valdez, the longtime executive director of Albuquerque's Vecinos Unidos community group, recalled how residents of the largely Latino South Valley and West Side began organizing for community betterment in the early 1990s. At first, members of the group were enthusiastic about cooperating with police and invited officers to meetings.
But relationships turned sour, Valdez said, with a spate of officer-involved shootings in sparking public protests in 1993. As in 2011, family members of the shooting victims demanded justice, Valdez recalled, but grew tired of speaking out after the system "ran them down."
If the 1993 family members joined together with the 2011 families, they would constitute "a big force," Valdez affirmed.
Widespread allegations of police brutality also riveted Albuquerque two decades before the times described by Valdez.
Deteriorating police-community relations erupted into open rebellion in June 1971, when a confrontation between officers and hundreds of young people in Roosevelt Park led to an uprising, the torching of police cars and the trashing of businesses along Central Avenue. Democratic Gov. Bruce King then dispatched the National Guard to occupy Albuquerque's streets.
Certain parallels stand between then and now .The country is immersed in foreign wars, and troubled veterans, both in and out of uniform, are on the streets in uncertain numbers. Like in 1971, an epidemic of heroin and other illegal drugs claws at th neighborhoods and shatters the families of the Duke City. And many young Latinos, immigrants and the native-born, face higher poverty rates than other ethnic groups, increasingly lack access to higher education and jobs and don't possess any kind of meaningful power over their economic futures.
Meanwhile, the DoJ is still considering whether to conduct a civil rights investigation of the Albuquerque police, a department spokesperson told Frontera NorteSur.
From Frontera NorteSur, Oct. 2
Graphic: timrawle