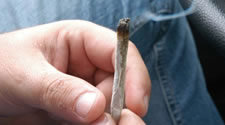 Cannabis advocates have been cautiously awaiting the moment of reckoning when the incoming Trump administration reveals how it will handle the growing groundswell for legalization. Now the DC Cannabis Coalition announces that it will make the point by smoking a joint—in public, on Inauguration Day. USA Today reports that the group plans to start handing out joints at 8 AM Jan. 20 in DC's Dupont Circle. Then, marchers will walk to the National Mall for the main rally—and light up. "The main message is it's time to legalize cannabis at the federal level," said Adam Eidinger, founder of DCMJ, the group that pushed for the successful legalization initiative in the District of Columbia in 2014.
But Eidinger is trepidatious—especially in light of Trump's pick for attorney general, Jeff Sessions. "We are looking at a guy who as recently as April said that they are going to enforce federal law on marijuana all over the country. He said marijuana is dangerous," Eidinger noted.
USA Today writes that the "great marijuana giveaway is legal," as long as it's done within the District of Columbia, and as long as no money is exchanged. "We don't want any money exchanged whatsoever," said Eidinger. "This is really a gift for people who come to Washington, DC." The plan is to distribute 4,200 such "gifts," and have everyone light up at four minutes and 20 seconds into Trump's speech. (420—of course.) But that part, USA Today warns, "is most definitely illegal."
And indeed, the NORML website makes clear that DC's Initiative 71 allows "transfer without payment" (but not sale) of up to one ounce to a person 21 years of age or older. But the DC Police Department page on the law states that it only allows adults to actually "use marijuana on private property."
"We are going to tell them that if they smoke on federal property, they are risking arrest," clarified Eidinger. "But that's a form of civil disobedience. I think it's a good protest. If someone wants to do it, they are risking arrest, but it's a protest and you know what, the National Mall is a place for protest."
Photo by prensa420