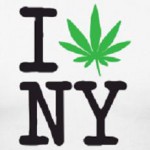 The push to legalize cannabis in the Empire State got a significant boost on Election Day as Democrats took control of the state Senate—long controlled by Republicans. A re-elected Gov. Cuomo played to a progressive base on the campaign trail, and will no longer be able to blame GOP intransigence for lack of progress. Will New York become the 11th state to legalize in 2019?
The Democratic Party won 35 of the New York State Senate's 63 seats in the Nov. 6 election, wresting control of the chamber from Republicans who have led it for much of the last century. GOP control of the Senate in an increasingly blue state has notoriously been a source of paralysis in Albany. With this logjam broken, many New Yorkers are anticipating smooth sailing for a progressive agenda in 2019—including cannabis legalization.
Gov. Andrew Cuomo sailed to a third term, handily defeating his Republican challenger Marcus Molinaro, the Dutchess County executive. In his victory speech at a Midtown Manhattan hotel, Cuomo hailed New York as the "progressive capital" of the nation and a citadel against the policies of Donald Trump (himself a New Yorker, ironically).
Added Sen. Andrea Stewart-Cousins of Yonkers, who stands to lead the Senate in January (the first woman and first African-American to do so): "We will finally give New Yorkers the progressive leadership they have been demanding." An Associated Press account names likely issues in this agenda as universal health care, stronger gun control laws, protections for abortion rights, higher taxes on millionaires—and legal cannabis.
Action on MRTA in 2019?
The Marihuana Regulation and Taxation Act (MRTA) has been repeatedly introduced by Liz Krueger, a Democratic senator from Manhattan's Upper East Side (who was also easily re-elected Nov. 6). The bill would create a system to regulate, control, and tax cannabis in a manner similar to alcohol for adults 21 years of age or older—with the limit on personal possession a generous two pounds. It would also allow home cultivation of up to six plants for personal use. But for three years in a row it has died in committee.

However, the issue is expected to get renewed debate in 2019. "I don't know whether I would actually have enough votes right away to pass this bill," Krueger admitted to City & State New York last month. But with the governor now hosting "listening sessions" on the question across the state, Krueger said she was optimistic. "I'm feeling pretty good about 2019."

And there is only reason to feel better in the wake of the elections.

The governor himself has been no friend of cannabis reform—until very recently. Cuomo finally came around to supporting a harshly limited medical marijuana law in 2014. He signed the bill that year, and the program was initiated in January 2016—with no provisions for actual use of herbaceous cannabis (only extracts). Last year, Cuomo finally broached legalization, directing his Department of Health to study the matter. The Department's report concluded that New York should pursue legal cannabis, and the listening sessions were launched.

Cuomo's turn-around on the question (although he has still stopped short of supporting legalization himself) has been attributed to the so-called "Cynthia Effect"—the progressive pressure he faced from the primary challenge launched by TV star Cynthia Nixon—who made cannabis legalization a key plank. She ultimately lost the Sept. 13 primary to Cuomo—but not without lighting a metaphorical fire under hia theretofore comfortable posterior. At its convention on Long Island in May, the state Democratic Party officially embraced legalization.
Growing normalization
There is already s sense that cannabis is being politically normalized in New York state. A bill
introduced last month
by Assemblyman Richard Gottfried, a Democrat from Manhattan, would ensure that medical marijuana is covered by public insurance programs in the state, including Medicaid, Child Health Plus, Elderly Pharmaceutical Insurance Coverage (EPIC), and workers' compensation. The bill would classify medical marijuana as a "covered drug or health care service," essentially treating it the same as a prescription drug. Until now, lack of affordable access for patients has been a big gap in the state medical marijuana program. Gottfried has garnered 17 Democratic co-sponsors for the bill, and it faces good odds next year.
Another bit of very encouraging news is the plummeting rate of marijuana arrests in New York City—once the pot bust capital of the nation—since authorities unveiled a new tolerant policing policy.
Gotham's
WPIX
reported Nov. 1 that marijuana prosecutions have plunged in two of the city's five boroughs since their respective district attorneys
stopped pursuing most cannabis cases
, and police changed their approach to pot enforcement. Manhattan DA Cyrus Vance Jr. released statistics showing marijuana arraignments dropped some 87% over the past three months. Last month, there were 28 arraignments for marijuana offenses—compared to 465 in October 2017.
Vance and Brooklyn DA Eric Gonzalez decided this summer not to prosecute most new minor possession and public smoking cases. The New York Police Department meanwhile shifted toward issuing tickets rather than making arrests fpr most low-level marijuana offenses. Gonzalez's office says it has had under a dozen marijuana cases in recent months—compared to 349 in January.

And politicians are opnly grappling with how to implement the transition to legal cannabis with a sense of social equity. Melissa Mark-Viverito, the former New York City Council speaker and an early advocate of legalizing, speaking at a Capalino + Company lobbying firm forum on cannabis, was quoted by City & State: "Legalization is going to be a 21st century gold rush." And she urged that measures be taken to assure that all New Yorkers have the opportunity to share in it.
She emphasized the disparity in perceptions about who uses the herb, illustrating it by the contrast between Manhattan's genteel Upper East Side and the famous African American neighborhood of Harlem just several block to the north: "If you're smoking marijuana on East 79th Street and Park Avenue, you are eccentric, groovy, fun. If you're smoking weed on 116th and Park Avenue—my neighborhood—you are a punk, a criminal, someone destined for failure who just needs to pull up his pants."

Cross-post to Cannabis Now
Graphic from The Weed Blog