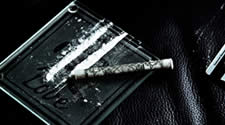 A welcome blow is reported against the deeply ingrained stigma that attaches even to users of basically harmless drugs like cannabis that happen to be illegal. The Global Commission on Drug Policy—a body with dissident views but made up of prestigious elder statesmen and world leaders, so it can't be readily ignored—has just issued a statement calling on policymakers and the media to avoid using terms such as "drug user," "addict" and "junkie." The report includes a checklist of what terms should be eschewed or embraced to avoid language portraying people who use drugs as "physically inferior or morally flawed."
The report is wittily entitled "The World Drug Perception Problem," with the word "Perception" appearing as if it were red-penned in by an editor. It urges use of "person with drug dependence" rather than "addict," "drug abuser" or "junkie."

It also calls for refering to a "person who uses drugs" rather than a "drug user," and to avoid labelling those with non-problematic drug use as "recreational, casual or experimental users." Perhaps most importantly, it calls for abandoning "combatant language" like "war on drugs."
BBC News notes that the report cites estimates from the UN Office on Drugs and Crime that a quarter of a billion people aged 15-64 used then-illegal drugs in 2016—of which nearly 12% were considered to suffer from problematic drug use. The report acknowledges the "negative impact" of some drug use, but adds that prohibitionist policies and rhetoric have "increased stigma," admonishing political leaders not to "stoke fears" about drug use.
The Global Commission includes 12 past presidents and prime ministers. Members include former UN Secretary General Kofi Annan, former Brazilian president Fernando Henrique Cardoso, former Colombian president César Gaviria, former Mexican president Ernesto Zedillo and Sir Nick Clegg, a former British deputy prime minister. Clegg announces the report in column in the UK Mirror, where right in his opening line he cuts through the propaganda in a very refreshing way: "I have a radical notion for you. What would you say if I told you that using drugs or other techniques to alter consciousness is a near-universal human practice, something that has featured in every society throughout history, alongside music and language?"

The Global Commission was established to bring the stature of its elite membership to a dissident position on the drug question. At the 2016 UN drug policy summit in Vienna, the Global Commission issued its own statement critquing the confab's official document, saying it "does not acknowledge the comprehensive failure of the current drug control regime to reduce drug supply and demand." In 2011, one of the Global Commission's first reports stated flatly that the "global war on drugs has failed." A 2012 report emphasized: "Vast expenditures on criminalization and repressive measures directed at producers, traffickers and consumers of illegal drugs have clearly failed to effectively curtail supply or consumption."

Reaction to the Commission's new recommendations will shed some light on whether journalists, editors and policy-makers are open to dissident perspectives even when they come from venerated veterans of the fabled corridors of power.
Photo by In a NY State of Mind