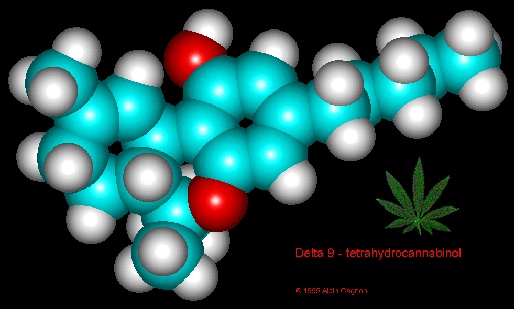 Having just undertaken a "critical study" of CBD, the non-psychoactive cannabinoid held to have multifarious medicinal applications, the World Health Organization is now opening such a study on THC. Stigmatized due to its psychoactive properties and currently in the shadow of the suddenly sexy CBD, tetrahydrocannabinol shows its own potential for application by the medical industry.
The World Health Organization this month issued its long-awaited statement on cannabidiol, or CBD, following a review of its medical uses and potential risks that was launched last year.

The "critical review" was turned in at the 40th meeting of the WHO's Expert Committee on Drug Dependence (ECDD), which was held in Geneva, Switzerland, in June.

The two conclusions reached at that meeting were issued in August in a WHO fact-sheet. First, the ECDD recommended that "preparations considered to be pure cannabidiol (CBD) not be placed under international drug control as the substance was not found to have psychoactive properties, and presents no potential for abuse or dependence." Secondly, it found "sufficient evidence to proceed to a critical review of cannabis and related substances," including THC. A "pre-review" of THC had determined that it should now follow CBD to the next stage.
The critical review of THC is scheduled to turn in results at the next ECDD meeting in November.
With the US Drug Enforcement Administration (DEA) now reviewing CBD's status as a Schedule 1 controlled substance, the ECDD recommendation increases the pressure to reschedule or deschedule CBD. A similar ECDD finding on THC would place greater pressure on the DEA—especially given the puritanical taboo about the THC "high" that still persists even as nine US states have now legalized cannabis.

Mounting medical evidence
Overshadowed by the hoopla about CBD, a growing body of evidence points to the efficacy of THC to treat a spectrum of disorders. Cannabis Now reported earlier this month on research at Toronto's Hospital for Sick Children in Toronto which found that use of cannabis oil containing both CBD and THC is effective in preventing seizures in sufferers of Dravet Syndrome—and is "safe and tolerable" for patients. CBD alone had already been demonstrated efficacious in this capacity, but researchers determined that adding a "conservative" amount of THC strengthened the results.

This was but the most recent of such findings in past years. A study from a team at UC San Diego, released in December 2013, evaluated "the analgesic efficacy of vaporized cannabis in subjects." Published by the National Center for Biotechnology Information (NCBI), the study looked at patients who were "experiencing neuropathic pain despite traditional treatment." Use of traditional cannabis strains containing THC produced "a clinically significant outcome." The study concluded: "Low-dose vaporized cannabis significantly improves neuropathic pain."

The NCBI in 1998 published findings of a team at the National Institutes of Mental Health in Bethesda, Md., finding that CBD and THC are neuroprotective antioxidants. Using methodology that would have appalled animal rights advocates, they first introduced agents that cause neurological damage in rats, then studied the efficacy of the cannabinoids in correcting or preventing it.

THC's neuroprotective properties have been demonstrated since then. In October 2014, Reuters Health reported on a study finding that the death rate following traumatic brain injury was lower among patients who tested positive for THC at one California hospital. "This data fits with previous data showing that (THC) may be neuroprotective," said Dr. David Plurad of UCLA, one of the study's authors. The team reviewed data on 446 adults treated at Harbor-UCLA Medical Center in Torrance, Calif., for traumatic brain injuries. About 2.4% of those who tested positive for THC died of their injuries, compared to about 11.5% of those with negative THC test returns.

Post-traumatic stress is another area where THC seems effective. The journal Clinical Drug Investigation in August 2014 published findings of a team led by Raphael Mechoulam, the legendary Israeli scientist who first isolated THC and CBD in the 1960s. It noted: "Marijuana is often used as compassion add-on therapy for treatment-resistant PTSD." Reviewing its effects on a study group, the team found: "Orally absorbable Δ9-THC was safe and well tolerated by patients."

As Cannabis Now has noted, the US Department of Health & Human Services actually secured a patent in 2003 for the use of cannabiniods as antioxidants and neuroprotectants. The Department recently granted license to develop these patents to NY-based KannaLife Sciences. And while it is CBD treatments that are now under development, the patent—number 6630507—is also for THC.

The absurd contradiction of federal policy is well illustrated by the fact that just three years after Health & Human Services secured this patent, a US Food & Drug Administration memorandum paradoxically reiterated the official position that cannabis has "no medical value."

But the pressure is growing on the US federal bureaucracy, and the WHO's findings on THC may considerably heighten the contradiction.

Cross-post to Cannabis Now
Image of THC molecule via Schaffer Library of Drug Policy