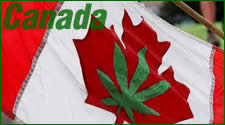 With the legal cannabis market increasingly dominated by "Big Bud," more Canadians are turning to homegrown—both for reasons of economy and an ethic of self-sufficiency. And they are fighting in the courts and the public squares for their right to do so—challenging both the federal limit on plants per household and efforts by two provinces to ban homegrown outright. So far, they are winning.
Canada's Cannabis Act, which took effect last October, allows home cultivation of up to four plants per household—either indoors or outdoors. More Canadians are now starting to take advantage of this freedom—and are pushing to expand it.

Last week, the Canadian Broadcasting Corporation reported on a workshop on home cannabis cultivation sponsored by a nursery in the small town of Petitcodiac, New Brunswick. Bob Osborne, owner of Corn Hill Nursery, invited the province's leading cannabis expert, Randy Flemming, to lead the workshop. They were overwhelmed by the turn-out, and had to find a bigger venue at the last minute. "I've never seen anything like it," said Osborne. "We've obviously touched a nerve."

Another CBC report from earlier in the year quoted Alex Rea, owner of Ontario's Homegrown Hydroponics chain, boasting of booming sales—and the obvious reason for them. "For the price-conscious consumer, if you're paying around $10 a gram for the varieties at the store, you might be only paying 50 cents per gram or less for a variety you grow yourself at home," Rea said.

The report also happily raises the possibility that the Cannabis Act's four-plant limit may simply go unenforced. Certainly it is up to local police, and they don't seem particularly interested. Quoted was Don Belanger of the Toronto Drug Squad. "To suggest that we're going to have teams of officers peeking in people's backyards to see if they're growing four plants, it's just not realistic," he said.

There are two Canadian provinces, however, that have banned homegrown altogether—Quebec and Manitoba. And here, too, progress is reported.

Win in Quebec —Manitoba next?
A key victory came Sept. 3, when the provincial courts overturned Quebec's prohibition on home cultivation. Quebec Superior Court Justice Manon Lavoie ruled that the provincial prohibition infringed upon the jurisdiction of Canada's federal government.

Justice Lavoie ruled unconstitutional the sections of Quebec's Cannabis Regulation Act, passed last year in anticipation of federal legalization, that penalize possession and cultivation of cannabis plants for personal use. The decision means it is now legal to grow your four cannabis plants at home in Quebec, the Canadian Press reports.

The challenge was brought by Montreal resident Janick Murray-Hall—a bit of a professional prankster, and publisher of the satirical "fake news" website World News Daily Report. He argued the ban violated the federal Constitution Act of 1867, which defines the limits of federal and provincial jurisdiction.

The provinicial law imposed a fine up to $750 (in Canadian dollars) for home cultivation—doubled on a second offense. The federal Cannabis Act states that provinces have the right to create "additional rules for growing cannabis at home, such as lowering the number of plants per residence." But it does not say that provinces can ban home cultivation outright. Justice Lavoie found that they cannot do so. He wrote (translated from the French): [T]he effect of the provincial provisions is a step backward, as though the new federal law aiming at accessibility and legalization of cannabis had never existed."

Nobody had actually been charged yet under the Quebec law. And, so far, only one person has been charged for home cultivation since Manitoba's Liquor, Gaming & Cannabis Control Act came into effect last fall, a provincial spokesperson told CBC News.

Cannabis advocates in Manitoba say that's one too many, of course. And with the ruling in Quebec as precedent, the CBC portrays it as a matter of time before a similar challenge is brought in Manitoba.

The Constitution Act gives the federal government the last word in criminal matters, said Chris Gamby, communications director for the Criminal Defence Lawyers Association of Manitoba. "For the province to then come in and say, 'Well, you're not allowed to even grow one plant'… they're sort of undercutting what the intention of the federal Parliament was," Gamby told the CBC.

Manitoba's law actually imposes a $2,542 fine for home cultivation. When it was instated last year, legal experts warned that the province could be crossing the line by imposing such a hefty fine, according to the CBC.

No other provinces have imposed stricter limits than the four plants allowed by federal law—Quebec and Manitoba stand alone in going beyond the federal Cannabis Act. And in Manitoba, home cultivation is still permitted for registered medical marijuana patients.

The reversal in the Quebec courts may cause provincial leaders to rethink plans to further rein in the cannabis community. Quebec's cannabis law was passed in June 2018 under the previous Liberal government. The new Coalition Avenir Québec government has announced plans to raise the legal age of consumption from 18 to 21. It also wants to ban the sale of cannabis edibles.

'Gray market' dispensaries squeezed out
A clear sign of Big Bud's consolidation of the legal cannabis market is the struggle now underway in Vancouver, where a handful of the upwards of 100 "gray market" dispensaries that had been tolerated before federal legalization are fighting for their right to stay open. One, WEEDS Glass & Gifts, is planning to appeal a decision by the city to reject its application to become a licensed recreational cannabis store, the Daily Hive reports.
The local Georgia Straight reports that WEEDS Glass & Gifts has been operating a store for five years, paying its business taxes, with its employees all earning more than the minimum wage. And it opened with the aim of continuing in the cannabis business after legalization. But the city still turned down its application. The business owners, employees and supporters packed a meeting of the city's Board of Variance on Sept. 10 to petition bureaucrats to rethink the decision.
In May of this year, British Columbia's Supreme Court rejected a bid from nine Vancouver dispensaries, including WEEDS, seeking to stay open. In a strange irony, Vancouver is shutting down its long-tolerated but unlicensed cannabis dispensaries—even as British Columbia struggles to meet demand amid a dearth of licensed retail outlets.
Another WEEDS outlet in the BC town of Grand Forks has also launched a legal challenge to the municipal government's rejection of their application for a license.
On Sept. 2, Vancouver police raided the Budzilla dispensary for allegedly violating city regulations on marketing of edibles.
A similar struggle has been playing itself out in Toronto. The Toronto Star notes the irony that a licensed retail outlet (ownership still unclear) is set to open at the former Harbord St. location of an unlicensed dispensary that operated for years under the name Cannabis & Fine Edibles, or CAFE, until it was ordered closed.

David Malmo-Levine, a longtime prominent Canadian cannabis advocate and Vancouver resident, told Cannabis Now he recently sold his share in the dispensary he co-founded, the ironically named Stressed & Depressed—citing the exorbitant fees imposed by the city government. "I had to sell my dispensary because I couldn't come up with the 35 K per year," he said. "It's a rich man's game, now."

Alluding to the scandals that have hit some of Canada's big cannabis industry players, Malmo-Levine added: "I think all the regs are BS—they are super tight with the renegades and super lax with the Licensed Producers (who keep breaking laws and get slaps on the wrist)."
Cross-post to Cannabis Now



Photo by PhotoPhreak