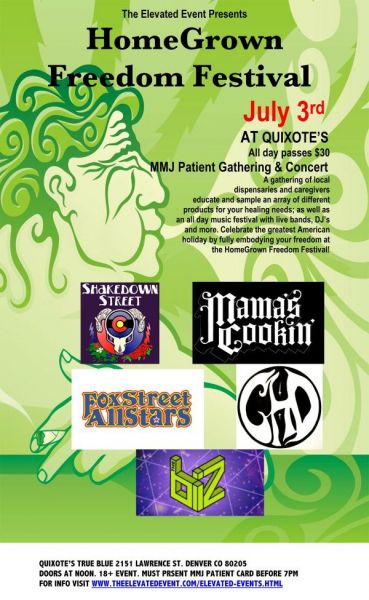 On July 3, medical marijuana users can head out to Quixote's True Blue bar in Denver, Colorodo, to experience the HomeGrown Freedom Festival, a gathering and concert exclusively for MMJ patients. This gathering is designed to connect patients with the local dispensaries and caregivers that best fit the individual's needs.
In addition, there will be live music all day. Artists include Shakedown Street, Fox Street All Stars, Mamas Cookin', Celestial Hoe Down, and Eminence Ensemble. Tickets are $30. Attendees must present a MMJ card upon entry. Please email theelevatedevent@gmail.com.
Since being given permission to tax medical marijuana, Colorodo's cities have seen a sudden increase of cash infused into their budgets. Denver alone has raised an extra million in sales tax in the last year (9News). Denver should be proud to play host to this unique event!