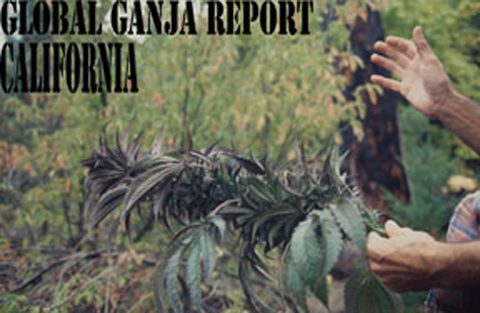 In Humboldt County, famed as the heartland of Northern California's cannabis-producing Emerald Triangle, big police raids of cultivation sites—with thousands of plants eradicated—are continuing despite the Golden State's new legalization program. Many growers are choosing to remain underground, in spite of the risks to their property and freedom. And a big part of the reason why seems to lie in a confusing and contested county regulation regime.
The Humboldt County Sheriff's Office continues to report massive marijuana raids—contrary to the expectations of those who thought legalization would mean an end to this kind of thing in California.
The most recent came May 22, when the county Drug Enforcement Unit served two search warrants on a home near Alderpoint. Deputies eradicated 10,609 cannabis plants growing in six greenhouses. A man named as Hector Merdrano Escalante of Redway was arrested for felony cultivation of marijuana and other offenses. Among the charges were streambed alteration without a permit and depositing hazardous material in or near a waterway—pointing again to the ecological impacts of unregulated growing. Wardens from the California Department of Fish and Wildlife and personnel from the State Water Board also took part in the raid, and a HAZMAT team was called in.
The account also indicated that the suspects had made some effort at compliance with the legal program. Before the greenhouses were raided, three parcels on the premises were examined. According to the Sheriff's Office press release: "Two of the parcels did not possess a commercial cannabis permit with the County of Humboldt and the third parcel's commercial cannabis application had been withdrawn."
A similar operation was reported just weeks earlier, on May 9. The Sheriff's press release said four Southern Humboldt locations were raided, with nearly 8,500 plants eradicated, and about 1,500 pounds of processed cannabis seized, along with more than $3 million in cash. Citations were issued for more than 50 environmental violations, including streambed alteration, illegal water diversion and water pollution "that impacted watersheds critical to three federally listed salmonid species." Three arrests were also made on cultivation charges. This time, there was no indication of any effort at compliance. "None of the four sites searched had permits and all were operating outside of the local and state permitting process," according to the release.

Redheaded Blackbelt, a news site that closely covers local Emerald Triangle issues, offered a view last month of why many Humboldt growers are choosing the risks of continuing to operate outside the law. Several established cannabis producers and distributors in Humboldt are still waiting for legal permission to operate for the recreational market, and some charge that the county's Cannabis Land Use Ordinance is obstructing progress.

In Briceland, Plant Humboldt Cannabis Nursery owner and operator Mikal Jakubal said he'd grown frustrated at awaiting clear regulations from the county. "I still don't know what I can actually legally do," he complained. "The county regs are changing, the state regs are changing, it's really hard to invest and to move forward in this rapidly changing economy when we don't even know what the requirements are going to be yet."

Local activist Darryl Cherney went so far as to assert that those applying for state permits are "paying for the bullets for their own firing squad. The homestead has become a business subject to inspection at any given moment. Anyone who signs up for this is in denial about the chance of succeeding. It's a moving target… Farmers always get the short end of the stick."
Indeed, Cannabis Now in April reported that with implementation of track-and-trace systems for California producers slated to begin on June 1, state officials are stepping up spot inspections. Many of the unannounced visits by agents of the Bureau of Cannabis Control have been amicable enough, but others were reportedly intimidating and intrusive.

Indicative of the special mess in Humboldt is the lawsuit launched against the county this month, demanding a refund of up to millions of dollars in taxes levied on cannabis businesses last year.

"At this point, my researcher tells me that there's been about $4 million collected from 2017 taxes, most of which are probably illegal," Alderpoint-based attorney Eugene Denson told the Eureka Times-Standard. "So it'll be a big deal to get this money back to the community and out from the county's hands."

The cannabis cultivation tax was approved by county voters in November 2016 through Measure S. But the lawsuit charges that changes were improperly made to the code by the Board of Supervisors in June 2017, defying the will of the voters. Under the changes, property owners who have cultivation permits for their lands are taxed between $1 to $3 for every square foot of cannabis that they are licensed to grow—depending on whether the operation is outdoor, indoor or mixed-light. The original version passed by voters taxed the growers rather than the property owners—and based on the square footage under actual cultivation, not on the maximum amount that could be grown under the license.

Humboldt, long practically synonymous with cannabis cultivation in California, now appears to provide a case study in how burdensome regulations and outright bureaucratic confusion may give an unwelcome new lease on life for the dystopia of an underground economy facing harsh enforcement and eradication.
Cross-post to Cannabis Now
Graphic by Global Ganja Report