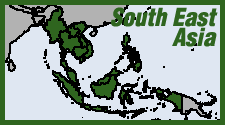 A British pretty-boy model getting popped for pot and facing a lengthy term in notoriously harsh prisons has again focused international attention on Indonesia's anti-drug police state. But countless others suffer in the shadows—including some 150 on death row for drug charges. And recent progress in official recognition of (at least) the medicinal properties of cannabis has been rolled back.
On death row for drugs —including cannabis
The UK
tabloids are abuzz
with the news that a hot Brit model for leading fashion lines, Jed Texas (real name Jed Higgins), faces 20 years in prison in Indonesia following a cannabis bust. Texas has been held in Bali's brutal and overcrowded Kerobokan prison since police raided his beachside villa in the resort town of Canggu in April. The raid turned up 85.15 grams of cannabis—about three ounces.
The Kerobokan facility also currently holds British grandmother Lindsay Sandiford, who in 2013 was
sentenced to death
on a cocaine charge. Photos from inside the prison show dozens of men living in one room and forced to sleep on the floor of their collective cell.
Also winning some attention is Davy Shane Cristian, an Australian national who
faces 12 years in prison
after being busted in Bali—with a measly 0.19 grams of cannabis, a bong, and 0.42 grams of a "purple powder" that authorities say was ecstasy.
But even without the purple powder, simple possession of cannabis can still land you a 12-year term under Indonesia's Narcotics Law—considered
one of the harshest in the world
. In sufficient quantities, cannabis can even land you on death row. Prosecutors are
seeking the death penalty
for six men accused of smuggling 240 kilograms of cannabis into Jakarta last year.
Lindsay Sandiford is one of some 150 people on death row in Indonesia—mostly for drug charges, and about a third of them foreign nationals. Another was Cai Changpan, a Chinese national who was convicted for 135 kilograms of crystal meth. Last month, he
managed to escape
from Tangerang prison outside Jakarta by digging a tunnel from his cell into a sewer line below. He is currently the subject of a national manhunt.
Indonesia has been observing a moratorium on executions, so no prisoners have actually been sent to the firing squad since 2015. But President Joko Widodo's new Attorney General Sanitiar Burhanuddin
pledged upon being appointed
one year ago that executions would "certainly" resume. He has yet to make good on his promise.
Cannabis stricken from medicinal plant list
This August saw a reversal in efforts to win official recognition of the medicinal applications of cannabis, which has a long history of traditional use in Indonesian culture. That month, the
Agriculture Ministry
announced it will rescind a ministerial decree issued just months earlier that listed cannabis as a "medicinal plant" under the ministry's supervision. Signed in February, the decree included
Cannabis sativa
as one of 66 medicinal plants whose production is under the oversight of the ministry's
General Directorate for Horticulture
.
An account in the
Jakarta Post
sadly implies that it was activist glee at the decree that did it in. Shortly after it was first issued, the decree went viral in cyberspace when the advocacy group
Lingkar Ganja Nusantara
, or Nusantara Marijuana Network, posted a
photo of the document
on its
Instagram account
. (Nusantara is an
ancient name
for the Indonesian-Malaysian archipelago, associated with the centuries-long maritime spice trade).
Apparently in response to this undue attention, the Horticulture Directorate made its announcement, citing Agriculture Minister Syahrul Yasin Limpo's commitment to "eradicate drug abuse."
"The decree will be revised soon, after we coordinate with the National Narcotics Agency [
BNN
], the Health Ministry and the Indonesian Institute of Sciences [
LIPI
]," Horticulture Director Tommy Nugraha said in a statement Aug. 29. He also implied that it had been listed in the first place to inhibit rather than encourage commercial production. "Marijuana's inclusion on the medicinal plant list means that it can only be used for research, as stipulated in Article 67 of Law No. 13/2020 on horticulture. Currently, we record no legal marijuana farmers in Indonesia," he stated.
Drug war and counterinsurgency
All this comes amid a general escalation of violence and repression in Indonesia. President Widodo has followed in the bloody footsteps of the Philippines' Rodrigo Duterte by
instating a "shoot-on-sight" policy
for drug suspects, citing a supposed drug "state of emergency" in the archipelago nation. Shortly after Widodo announced the policy three years ago,
Amnesty International
noted a dramatic increase in police shootings of drug suspects.
Alas, there is potential for the convergence of drug enforcement and counterinsurgency in Indonesia—the same kind of grim intersection seen in Colombia, Peru, Burma and elsewhere. A long-simmering
pro-independence insurgency
in the restive region of West Papua was last year given greater impetus by a
popular uprising
. While it remains taboo under Indonesian rule, much cannabis is grown in West Papua, exported on the illicit market to elsewhere in Indonesia, Southeast Asia and the Pacific. It is known as
spak brus
in the local Melanesian tongue—
spak
meaning intoxicating, and
brus
meaning home-grown tobacco.
Another cannabis-producing region is Aceh, on the northwestern tip of the island of Sumatra. This region had also been the scene of a long separatist insurgency, which finally
ended with a peace deal
in 2005. But the marginalized region has never fully recovered from the war. Lawmakers from Aceh have
proposed legalizing cannabis
, at least within the region, as a ticket to economic development. Such measures stand little chance under Widodo's increasingly authoritarian government.