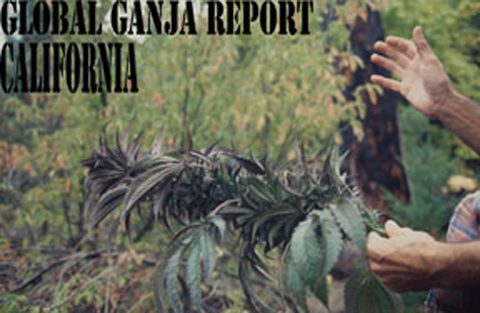 The bureaucracy overseeing California's cannabis industry is moving fast to facilitate insurance coverage for businesses—a question very pressing as wildfires rage through the Emerald Triangle.
When the smoke finally clears from the unprecedented wildfires now consuming vast areas of California's traditional cannabis-producing heartland, we will have a sense of how much damage has been wrought to the industry. Fortunately, state authorities have taken measures to assure that legal cannabis businesses have insurance coverage.
Industry responds to bureaucratic mandate
California's Insurance Commissioner Dave Jones on Aug. 2 announced the approval of three more companies to offer coverage for the cannabis industry in the state. "The approval of these new products means California cannabis businesses have more options for insurance coverage available to them," Jones said in a statement quoted by Insurance Journal. "I continue to encourage more insurance companies to file cannabis business insurance products with the department to meet the needs of this emerging market."
Just a week later, the National Association of Insurance Commissioners (NAIC) voted to establish a Cannabis Insurance Working Group. to address insurance availability for the legal industry. California's commissioner Jones was appointed as chair of the NAIC's new working group.

According to the California Department of Insurance, Jones launched his initiative last year to encourage companies to "fill coverage gaps" for the cannabis industry. The first official approval of an "admitted commercial insurer" offering coverage for the cannabis industry was announced in November 2017. The first surety bond program for the industry was announced in February 2018, and the first coverage for commercial landlords for cannabis businesses announced in May of this year. The first standardized policy forms for the cannabis industry filed by the American Association of Insurance Services (AAIS) were approved by Jones' office in June.

One beneficiary's story
Craig Nejedly of Humboldt-based Talking Trees Farms is one businessman who learned about the importance of insurance through direct experience. The Talking Trees grow operation in Willow Creek is one leg of his enterprise along with Satori Wellness dispensary in McKinleyville, which just opened in March. This grew out of Satori Movement, launched in 1998 as skateboarding lifestyle company selling hemp products and a clothing line. The final leg is the High Grade cannabis products distribution company.
Nejedly told Cannabis Now that his unpleasant surprise followed the NorCal Cannabis Cup at the Sonoma County fairgrounds in Santa Rosa in June, where Talking Trees won a first place prize for the best CBD vape cartridge. "We got out really late, and it was 1 AM before we got back to where we were staying in Sebastopol. And in the morning someone had broken into our truck and stolen a lot of cannabis products. Maybe someone had followed us from the event, even though it was three hours since we left."

Nejedly said he immediately filed a report with the Sebastopol police as required by state regulations, and contacted the Bureau of Cannabis Control. Next, "I contacted my insurance agent, who gave me info on how to make a claim. They put us i touch with an adjuster who collected the police report and our inventory, documenting lost revenue. Seven weeks later the company sent me a check."

Under the new regulations that just took effect in California, permitted cannabis businesses must be insured. Nejedly sees this as encouraging a healthy competition. "Our premiums were not expensive, not out of line with what any other typical businesses pay," he says. "Companies are going to the BCC and getting a list of businesses, and calling people left and right to offer policies." However, he says that nationally, "there are only a handful of companies that will explicitly acknowledge that cannabis is the product their covering."

Wildfires make issue more urgent
One painfully obvious factor that could make this whole question much more urgent is the devastation from the wildfires now sweeping through much of California—including the Emerald Triangle. The Mendocino Complex of wildfires is now being called the biggest recorded in California's history. Across the Triangle, the massive Carr Fire is consuming woodlands on the east side of the Trinity Alps in Shasta County. The two fires have destroyed scores of homes and hundreds of thousands of acres of forest. It remains to be seen to what degree legal cannabis businesses in these areas will be impacted.

Nejedly says that the Talking Trees grow op in Willow Creek actually wasn't insured until the regs changed, requiring a separate policy to cover that. Although Willow Creek is considerably north of the Mendocino Complex and across the mountains from the Carr Fire, he still fears the operation could be impacted. "Even where we are, smoke can cause damage. We've had ash raining down on the farm from fires in previous years." He acknowledges that crop loss from this kind of damage "would be a difficult claim."

This problem is clearly getting worse, possibly due to climate change. "We get wildfires every summer in California, and they've been really devastating this year, hurting a lot of cultivators and damaging a lot of crops," Nejedly says.

However, the only case so far this year in which insurance came to the rescue of a cannabis business hit by fire is the July 23 blaze that destroyed much of Loudpack Farms in the Salinas Valley town of Greenfield. Fire investigators have just determined that this blaze was caused by a discarded cigarette.
Cross-post to Cannabis Now
Graphic by Global Ganja Report