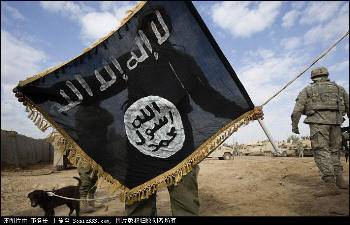 OK, some of the sources have axes to grind, but claims are mounting that the ultra-puritanical ISIS are stoned out of their minds on meth. Reuters reported last month that the UN Office on Drugs and Crime (UNODC) has noted a surge in trafficking across the Middle East of Captagon, brand-name of fenethylline—an amphetamine notorious for its popularity among militants fighting in Syria and Iraq. Black-market knock-offs of the stuff are being produced by armed factions in Syria, both to fund their insurgencies and for their own fighters' use. Reuters said, "Syrian government forces and rebel groups each say the other uses Captagon to endure protracted engagements without sleep." We're sure they're both right.
In the latest of a wave of such busts across the region, Jordan Times reported Jan. 27 that anti-narcotics agents seized a shipment of 135,000 Captagon pills at the Omari border crossing with Saudi Arabia. Days earlier, the Jerusalem Post reported that Israeli police on the West Bank seized a huge stash of Captagon—"thousands" of pills picked up from a Palestinian returning from Jordan at the Allenby crossing, along with 1.3 kilograms of hashish. The J-Post added: "In recent years, reports have surfaced that Lebanese Shi'ite terrorist group Hezbollah have been helping fund their activities through the production and trafficking of large amounts of fake Captagon, producing powerful methamphetamine pills sold across the Middle East. Lebanese authorities have also busted a number of drug labs in southern Lebanon that were reportedly used to cook methamphetamines." The report dubs Captagon "jihad meth," although it is actually not a methamphetamine (some of the knock-off stuff likely is).
Of course, while the J-Post accuses Hezbollah of cooking up the stuff, Hezbollah is meanwhile accusing its Sunni militant enemies of doing the same. In a case of strange bedfellows, the right-wing Islamophobic Western Journalism touts the claims of a Hezbollah fighter (named only as "Sajid") to Vice News that ISIS fighters use Captagon in battle, and that the Sunni extremist "caliphate" is producing the stuff to generate "hundreds of millions of dollars" from exports to the Gulf States.
Spain's El Pais on Feb. 3 similarly quoted a fighter from an unnamed rebel faction in northern Syria boasting a Captagon tablet allows him to go 48 hours without sleep and not feel the cold.
We noted reports from Kurdish fighters in northern Syria last month that their ISIS enemies were keeping up their morale by snorting coke. The same crew who are burning cannabis fields and stoning "adulterers" to death in the name of their zealous piety. Go figure.
Cross-post to High Times
Graphic: Jurist