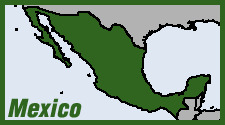 A 29-year-old man believed to be the godson of Mexican narco lord Joaquin "El Chapo" Guzmán was indicted on drug charges in a San Diego federal court Aug. 7. Damaso López Serrano AKA "Mini Lic" was charged with smuggling unspecified quantities of methamphetamine, cocaine and heroin. He'd turned himself in to US border agents several days earlier, and is said to be the highest-ranking Mexican kingpin ever to surrender in the territory of the United States.
Authorities say they believe Mini Lic turned himself in under pressure of a bloody power struggle over control of the Sinaloa Cartel—and possibly to stay out of the clutches of Mexican authorities, who could exact revenge on him as a favor to the notoriously well-connected Chapo. Mexican federal police were apparently hot on his trail in the border town of Mexicali, when he showed up in Calexico on the California side and presented himself to the US Border Patrol on July 26. He was promptly transferred to DEA custody.
Mini Lic had been close to Chapo's sons, but now the Guzmán crime family is being riven by an Oedipal revolt, with the imprisoned old man trying to keep control of his machine as a new generation attempts to usurp it, according to the San Diego Union-Tribune.

Mini Lic is part of that new generation. He is the son of—and got his nickname from—Damaso López Nuñez AKA "El Licenciado" (The Graduate), formerly one of Chapo's top lieutenants, who was arrested in Mexico City this May. Mini Lic had quite a presence on social media, flaunting his narco-playboy lifestyle with pictures of coke-snorting, sports cars and gold-plated AK-47s.
El Chapo himself is now in the hands of US authorities, where it is presumably at least somewhat more difficult for him to micro-manage his empire. But his legal team is currently challenging his January extradition from Mexico to the US as illegal. They are arguing that Mexican authorities initially agreed only to extradite him to face charges only in Texas or California—in two of the seven federal districts where had been indicted in absentia. Instead, he was flown to New York, to face charges in federal court in Brooklyn. Officially, Mexico issued a waiver to allow this, but the lawyers question if this was done legally given the short notice.
Things have sure been busy of late at the Calexico-Mexicali crossing, the first major border outpost inland from San Ysidro-Tijuana. In three separate incidents on the Aug. 2, US border agents uncovered nearly one ton of cannabis and an estimated $16,600 worth of methamphetamine at the Calexico crossing. The cannabis haul, valued at $900,000, was intercepted when a supposedly empty tractor-trailer was run through the Border Patrol's imaging system. Seventy-three wrapped packages of herb were found hidden inside the front wall of the trailer. The shipment and tractor-trailer were seized, according to local KGTV.
Cross-post to High Times