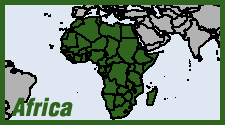 Lesotho is a land-locked mountain kingdom in Africa that few in the outside world have heard of, but it punches above its weight where cannabis production is concerned. "Dagga" has long been a pillar of its economy. Now it is attracting international investment to grow cannabis for the global medical market. With cannabis just decriminalized in South Africa—which borders Lesotho on all sides, and is closely integrated with the kingdom—this is a promising sign for the entire region.
Amid the big news of cannabis decriminalization in South Africa this week, many are turning an eye to the burgeoning legal cultivation sector in the country's smaller neighbor—Lesotho.
Surrounded on all sides by South Africa, the mountain fastness of Lesotho is a deeply traditional if constitutional monarchy. It's biggest real export has long been its young men, who seek employment in South Africa and send money home. But since the job market in South Africa contracted some 10 years ago, struggling families have been turning to cannabis cultivation—and exporting that to South Africa instead, on the black market. Lesotho's rulers recognize that cannabis is serving as a kind of economic safety valve, and have taken a tolerant approach. Some observers have even called it a "de facto decriminalization." Now the country is getting an officially legal cultivation sector as well.
Cannabis capital in Africa's mountain kingdom
Last week, Kaneh Bosm BioTechnology of Vancouver announced that it has it has contracted UK-based Volare Consultancy to help purchase land for cannabis cultivation in Lesotho, as well as storage and manufacturing facilities.
The write-up on the announcement on Proactive Investors website noted that Kaneh Bosm is following the lead of Canopy Growth Corporation, the Ontario-based industry giant that earlier this year acquired Daddy Cann Lesotho PTY Ltd for $28.8 million. Daddy Cann and Kaneh Bosm's CanAfrica had already been awarded medical cannabis licenses by the Kingdom of Lesotho. Also earlier this year, Supreme Cannabis of Toronto invested $10 million for a 10% stake in another Lesotho company with cultivation licenses, MediGrow Holdings PTY Ltd. .
Kaneh Bosm just this month changed its name to International Cannabis Corp—picking up the name that was abandoned last year by the compnay now calling itself ICC Labs, which is helping to supply the legalized market in Uruguay, and the medical market in Colombia. The Lesotho investment is part of a recent push by the cannabis industry into the African continent.
This wave of international interest got rolling just a year ago, when Lesotho issued the first cannabis cultivation license ever on the African continent, to a local company, Verve Dynamics. Now, another Ontario company, Aphria Inc, recently announced a joint venture with Verve Dynamics to supply cannabis isolates for the global market.
A common cannabis market for southern Africa?
Lesotho and South Africa are closely integrated. Both are members of the Southern African Customs Union, along with Botswana, Namibia and Swaziland. The SACU, akin to Europe's Schengen Area, aims to encourage the free interchange of goods between member countries. Cannabis products are now shaping up to be key among those goods.
South Africa has an embryonic medical marijuana program, with another Canadian industry giant, Tilray of Vancouver Island, providing cannabis products. South Africa's struggling farmers last year launched an initiative to demand legal cultivation of dagga (as cannabis is locally known) in the country—starting with KwaZulu province, a traditional agricultural heartland that borders Lesotho on the east.
Kaneh Bosm is also moving into South Africa. It recently acquired the local company Aricannabis BioTech Corp, which works on an exclusive basis with another local firm, NuCare Health, to provide medical marijuana products to over 2,800 pharmacies across South Africa.
Decriminalization came to South Africa Sept. 18 when the country's Constitutional Court upheld a lower court ruling finding that the law against the use, possession, purchase and cultivation of cannabis was unconstitutional. At least personal cultivation, as well as private use, will now be permitted in South Africa.
These developments may prove a step toward an integrated cannabis market for the greater region, which has sadly been beset by growing economic difficulties since the end of apartheid in 1994. This has also meant instability. Just this month, Lesotho marked the 20th anniverssary of South Africa's September 1998 military intervention, following an outburst of internal violence over disputed elections in the mountain kingdom. A legalized cannabis sector could point the way out of the region's long-simmering crisis, and there are growing signs of openness to it—with Lesotho leading the way.
Cross-post to Cannabis Now