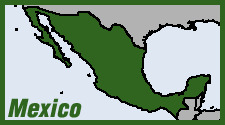 Well, that didn't take long, did it? A massive manhunt is underway in Mexico after the country's most notorious drug lord escaped from the country's highest security prison on the night of July 11. Joaquin "El Chapo" Guzmán stepped into a shower and through a secret door down a tunnel that led out of Altiplano Federal Prison. The lighted and ventilated tunnel was nearly a mile long, Mexico's National Security Commissioner Monte Alejandro Rubido García admitted. Reports indicate the tunnel even had a "rail system." It came out in a warehouse.
President Enrique Peña Nieto said he was "deeply troubled" by "a very unfortunate event that has outraged Mexican society." Yeah, we'll bet. "Chapo" Guzmán's arrest in February 2014 was the crown jewel in a string of take-downs of top kingpins. He had escaped from a top-security prison once before in 2001—that time, in a laundry cart. For more than a decade after that, he implausibly eluded capture despite a supposed naitonal manhunt—leading to a popular conspiracy theory that the Mexican government and US DEA were protecting him and his Sinaloa Cartel. Now it seems this farcical status quo ante may be back on.
Peña Nieto was quoted by CNN: "This represents, without a doubt, an affront to the Mexican state, but also I am confident that the institutions of the Mexican state, particularly those in charge of public safety, are at the level, with the strength and determination, to recapture this criminal."
Oh? An affront to the Mexican state? Obviously somebody in the Mexican state is collaborating with El Chapo.
As Ana Maria Salazar, a security analyst and former Pentagon counternarcotics official, told CNN: "One would have assumed that he would have been the most watched criminal in the world, and apparently, that just didn't happen. This is a huge embarrassment for the Mexican government. Obviously it's going to raise a lot of questions as to what's happening with the Mexican criminal justice system."
And its gets worse. Mexico's Blog del Narco reports that the man believed to be Chapo's son, Iván Archivaldo, announced the impending escape on his Twitter account as far back as May 8. He tweeted: "el general pronto estará de regreso" (the general will soon return).
Might it not have ocurred to you to check the showers in Chapo's cell-block for secret passages after this indiscrete tweet, Altiplano prison authorities? Just asking.