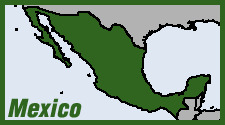 In what authorities call a dispute over control of drug trafficking routes and timber resources, paramilitaries linked to organized crime have used death threats and violence to cause a general exodus of the campesino community of La Laguna, in Coyuca de Catalán municipality of southern Mexico's Guerrero state. In a caravan of seven trucks, 30 adults, the majority women and elders, with 77 children, fled the night of April 21 from the hamlet in the Sierra Madre del Sur to Puerto Las Ollas, some five hours away on rugged mountain roads. There they remain, having been granted refuge by local residents.
Guerrero's Gov. Ángel Aguirre assured reporters that conditions for the displaced campesinos at Puerto Las Ollas are "very good," after a visit to the village by state officials. But the visit came in response to protests by the displaced over lack of medical attention. Several are suffering from respiratory infections, and at least one of the displaced women is pregnant.
State investigators announced late last month the exhumation of 15 bodies in Coyuca de Catalán municipality, some of whom are believed to be of disappeared family members of the displaced at Puerto Las Ollas. State authorities have also reported similar evacuations of other hamlets in the municipality, including Coahuayutla, La Unión, José Azueta, Petatlán, Ajuchitlán del Progreso and Pungarabato.
Among the more prominent figures assassinated in Coyuca de Catalán this year are Ramón Almonte, whose brother worked in the Mexican consulate in Chicago, and who was killed on Jan. 1; and Javier Torres Cruz, community leader of La Morena, killed in a road ambush on April 18. (Proceso, June 18; La Jornada Guerrero, May 31; La Jornada Guerrero, El Universal, May 29)