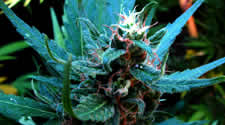 The Montana Caregivers Network is traveling the state in "cannabis caravans," setting up shop in local hotels, where patients can walk in, see a doctor and—if they qualify—get a medical marijuana recommendation for a $150 fee. "You're helping end suffering on this planet for human beings," said mobile clinic organizer Jason Christ.
The caravans have helped the number of medical marijuana cardholders in Montana swell over the past year from about 3,000 to 15,000. But police and state medical authorities are trying to curtail the mass screenings.
Undaunted, Christ says the group will take the caravan beyond Montana this month, with clinics scheduled in three Michigan cities: Detroit, Kalamazoo and Lansing. He said advocates from several other states—including New Mexico, New Jersey and Hawaii—have contacted him to inquire about setting up similar enterprises. (AP, June 3)
Photo by akhir.