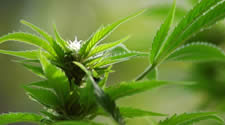 US biotech firm Cannabis Science, Inc. reports that Montana Gov. Brian Schweitzer visited its latest acquisition, Montana Pain Management in Missoula, June 17. Governor Schweitzer reportedly praised the project; "You are doing it right."
Montana Pain Management President Rick Rosio requested a meeting with the governor to discuss the state's medical marijuana law, and the governor toured the MPM facility.
Montana Pain Management has over 450 patients and projected annualized gross revenues of approximately $1 million per year, and is one of Montana's largest medical marijuana providers.
Said MPM's Rosio: "It was very exciting to be able to show the governor the way we operate. We told him about how we track all the cannabis we produce and provide to specific clients, in compliance with Montana law." He added: "These controls also provide physicians with accurate information on their patients' cannabis usage. In addition, we are able to gather data on strain-specific benefits, which Cannabis Science can use in its research and development program for new pharmaceutical cannabis products." (Cannabis Science via Global Newswire, June 18)
Photo by Drome