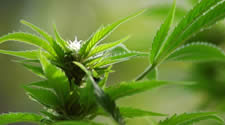 The 9th Circuit US Court of Appeals in San Francisco April 9 issued a ruling that may open the way for protection of sacramental cannabis use under federal law. While the decision found that the government does not have to compensate a Native American church for seized cannabis, it also allowed Michael Rex "Raging Bear" Mooney and the Oklevueha Native American Church of Hawaii to fight for declaratory and injunctive relief barring the government from enforcing the Controlled Substances Act against their followers.
Mooney and the church filed suit in 2009 after the Drug Enforcement Administration seized a FedEx package containing one pound of cannabis in Tupperware containers, addressed to Mooney. The cannabis was turned over to the Honolulu Police Department and later destroyed, but the government said it had "no interest" in pressing criminal charges. Mooney said the cannabis was intended for sacramental "sweat lodge use," and that interference with that activity curbed his religious freedom. He sought the return of the cannabis or compensation for its "theft and conversion," under the Religious Freedom Restoration Act of 1993. US District Judge Susan Oki Mollway in Honolulu dismissed the case because "the court could not order the government to return that which it does not have."
But a Ninth Circuit panel found that the matter does not end there. "The seizure of Plaintiffs' marijuana that has already occurred creates a justiciable case and controversy about plaintiffs' constitutional and statutory entitlement to use marijuana for religious purposes," wrote Judge Mary Murguia for the three-judge panel. The ruling found that the church should have the opportunity to fight for a protective injunction for "future use" of cannabis on "pre-enforcement" grounds. The panel remanded the suit back to the lower court for further review, without offering an opinion on the merits of the case.
While federal policy respects an exemption to the Controlled Substances Act for religious use of peyote by the Native American Church, this does not apply to sacramental cannabis use. The Oklevueha Native American Church suit seeks to expand this exemption to include cannabis, and protect its members from possible legal action. (WSJ, Courthouse News Service, April 9)
Photo by Drome