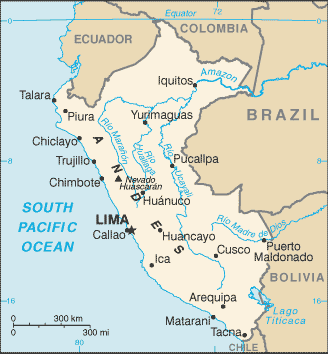 Agents of Peru's National Police force intercepted a small plane loaded with 300 kilos of cocaine paste in Oxapampa province, Pasco region, on Nov. 24, mortally wounding the pilot, a Bolivian national. Authorities said the agents, attached to the elite Tactical Anti-drug Operations Directorate (DIRANDRO), were staking out a clandestine airstrip they had discovered when the Bolivian-registered plane landed there. Three Peruvian crewmen were taken into custody, but the pilot was apparently shot in the stomach when he resisted. He was evacuated by helicopter to the nearest town, Ciudad Constitución, where he died in the hospital. The cocaine paste is believed to have been locally produced, and bound for Bolivia.
DIRANDRO chief Vicente Romero said that massive cocaine labs in eastern Bolivia have become a destination for paste from across Peru and Bolivia alike, where it processed for export to Brazil and the United States. He said Bolivia "has been converted into a center for collection and crystalization of cocaine base paste," and charged that Bolivian authorities are turning a blind eye. "In Bolivia, any small plane or land vehicle can go without any authorization." (Los Tiempos de Cochabamba, Nov. 26)
In a very similar incident in September 2012, DIRANDRO agents intercepted a cocaine-laden Bolivian-registered plane when it landed at a clandestine airstrip in Oxapampa, getting into a shoot-out with the crew, who were able to escape into the jungle. At the time, DIRANDRO said the cocaine had been produced in a nearby jungle zone controlled by the Sendero Luminoso guerillas. The new incident comes as Bolivia claims Peruvian senderistas who had infiltrated across the border were responsible for a deadly ambush on a coca eradication patrol in a jungle area of La Paz department in October. Both governments seem quite eager to scapegoat the other for the continuing narco-economy and inevitably attendant violence.
Cross-post to High Times
Graphic: US State Department