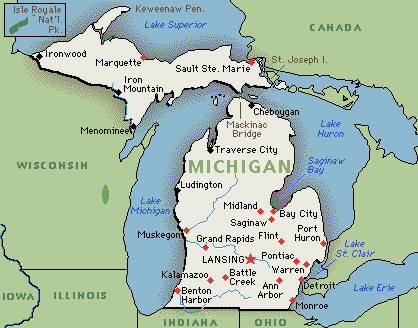 Legal cannabis sales are officially starting in Michigan on Dec. 1—but with a big emphasis on the "officially." Cannabis shortages and a dearth of licensed dispensaries mean that the Wolverine State's retail recreational program will be off to a less than flying start. Even last-minute abandonment of the planned firewall between the medical and recreational markets may be insufficient to salvage the situation.
The adult-use cannabis market in Michigan is to officially hit in on Dec. 1, when the first "recreational" sales will be allowed. But supply shortages promise a less than spectacular start—and there is an ominous sense that, like the state medical marijuana program before it, the new adult-use sector could be plagued by mismanagement.
Will medical caregivers save the adult-use sector?
A year has come and gone since Michigan voters passed Proposal 1, making the Wolverine State the 10th in the nation to legalize adult-use cannabis. Cannabis within the quantities delineated by the text of Prop 1 officially became legal 10 days after passage of the proposition was verified. However, it has taken a year to get a licensed retail distribution system ready to go—and just barely, at that.

Bureaucratic bottle-necking, however well-intentioned, seems to be at fault here.

Until recently, Michigan's medical marijuana "provisioning centers" (as dispensaries are officially called there) had been in large part supplied by individual licensed caregivers, who number more the 40,000 across the state, each allowed to grow up to 70 plants for five licensed patients.

But Gov. Gretchen Whitmer's new state Marijuana Regulatory Agency (an arm of the Department of Licensing & Regulatory Affairs) announced in May that the provisioning centers would be "immediately" barred from purchasing cannabis from caregivers. Now, it was decreed, all cannabis products—bud, hash, concentrates or edibles—must be purchased from one of the approximately 20 state-licensed corporate growers and processors.

As Detroit Metro Times reported in May, this raised concern among medical users, both because the prices of the corporate producers are significantly higher than those of the caregivers, and because they were more likely to offer the bud favored by recreational consumers as opposed to the tinctures and concentrates favored by the medical market. Under the new regulation, caregivers may sell their products to the corporate growers and processors, but no longer directly to the provisioning centers. The added step would also mean a higher price for patients.

As the months progressed, regulators started to realize that the corporate producers would not be up to the task of meeting recreational demand on time. Partially, it seems, this is due to the slow and haphazard awarding of licenses. It takes at least four months to produce a cannabis crop, and state regulators didn't license growers first. Instead, they approved licenses on a first-come-first-serve basis for all cannabis services, such as transporters and testers.

The shortage has driven up prices, Robin Schneider, executive director of the Michigan Cannabis Industry Association, told Michigan's public-affairs website, Bridge. "The prices have been upwards of $4,000 per pound," she said. "Which is incredibly high, when you look at the rest of the country. It's just because the demand is so high." (This price is indeed well above the national average.)
On Nov. 13, the Marijuana Regulatory Agency told provisioning centers they could start transferring half of their inventory to the adult-use market on the first day of December. The agency had until this point resisted the move, hoping to assure supply for medical users. Even with the change, only products that had been on the shelves and available to consumers for over 30 days could be transferred to the adult-use sector.

An obvious answer to the dilemma is allowing the individual caregivers who have supplied up to 70% of the cannabis available at medical provisioning centers to similarly provide to the recreational dispensaries. But there has been resistance to this. Marijuana Regulatory Agency directior Andrew Brisbo told the Detroit Free Press in October: "We will allow for caregivers who want to become licensed as a class A grower or a micro-business to bring their plants into the recreational market. But that's the only mechanism that we'll provide for at this point."

And inventory was only part of the problem. Brisbo admitted to the Detroit Free Press on Nov. 13 that he "can't imagine that we'll have more than a dozen or so" retailers licensed by Dec. 1.
That proved to be an entirely too optimistic assessment. With less than a week to the roll-out date, Detroit Metro Times reported Nov. 25 that only three adult-use retail licenses had been approved—and all of them in one city, Ann Arbor (Exclusive Brands, Greenstone Provisions and Arbors Wellness).

In something of an understatement, Marijuana Regulatory Agency rep David Harns told Bridge, "This isn't going to be a flip of the switch where everybody's going to be able to" sell adult-use cannabis on day one.

And as Detroit Metro Times points out, even in Ann Arbor sales probably won't start Dec. 1, because that's the Sunday ending the Thanksgiving weekend. So no state workers will be in the office to register the transfer of medical marijuana to recreational retailers—and that has to happen before it can be sold on the adult-use market, under Marijuana Regulatory Agency "emergency regulations" issued in July.
Memories of mismanagement
For Michiganders, there may be an unsettling sense of deja vu to all this. The state's medical marijuana program, first unveiled in 2008, saw several false starts before it finally got up and running.

Last year, there was a similar sense of anti-climax when, following a legal reboot of the medical marijuana program, the new "provisioning centers" were to come on line. Amid legal challenges and disputes over zoning in Detroit, the roll-out date was repeatedly postponed. This left hundreds of dispensaries that had opened before the reboot operating in a "gray market"—tolerated by the authorities on an unofficial basis while the mess was being worked out. Then, in the spring of 2018, state authorities started to order these outlets closed—which also may have contributed to the shortage.

A similar cycle appears to be playing itself out. Michigan Live reported this June that with cannabis ostensibly legal but no licensed retail outlets up and running, purveyors and consumers were turning again to a "gray market"—holding public events where quantities of cannabis were "gifted" along with an overpriced purchase of a legal item such as a T-shit. (Wink wink, nudge nudge.)

Let's hope Michigan regulators get it together sooner rather than later. There might just still be time to have a functional adult-use market in place by 2020, as originally planned with passage of Prop 1. But apart from (maybe) a few lucky buyers in Ann Arbor, Dec. 1 is likely to be a major nothingburger.
Cross-post to Cannabis Now



Photo by GreenwichMeanTime