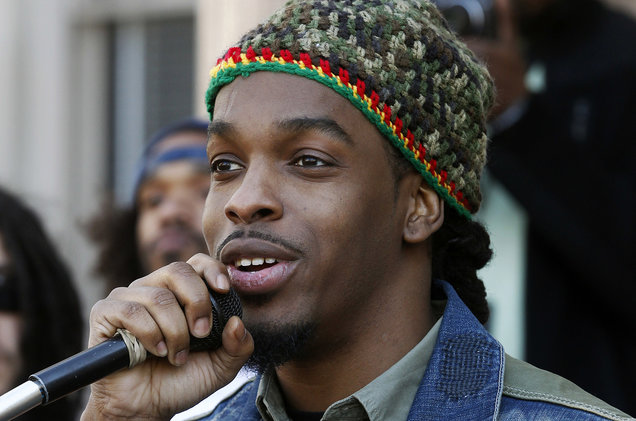 The family of late reggae legend Peter Tosh announced June 22 that the superstar's son has been left in a coma following a beating in a New Jersey jail, where he was serving a six-month sentence on a marijuana possession charge.
Jawara McIntosh, 35, has been hospitalized since suffering traumatic brain injuries in the Feb. 21 attack at the Bergen County jail, and the family is launching a civil rights suit. The family is also demanding that the federal Justice Department open an investigation into the incident.
"My heart cries not knowing what happened to my son," said his mother, Melody Cunningham, from her home in Boston, according to the Daily News. "Not being able to talk to him because of the condition that he's in. [I'm] trying to be strong for him, I have to be strong for him."
Cunningham and Jawara's nine siblings—including his sister Niambe McIntosh, administrator of the Peter Tosh Estate—say they are preparing to file suit against the Bergen County Jail "for directly participating in and/or failing to prevent Jawara from being beaten into a coma while in their custody." The family has retained civil rights attorney Jasmine Rand, who has previously represented the families of Trayvon Martin and Michael Brown. Rights leaders offering support to the family in the case include Rev. Al Sharpton and Ndaba Mandela, grandson of South African liberation hero Nelson Mandela, according to Reggaeville website.
New Jersey's Hackensack Daily Voice reports that a fellow inmate at the Bergen County jail—a Queens man awaiting trial in a home break-in, named as Kyrie Baum—has been charged in the brutal beating.

McIntosh, who performed under the stage name Tosh1, was arrested in Mahwah, NJ, in June 2013, with police saying they found more than 65 pounds of cannabis in the trunk of his rental car. Billboard reports that Mahwah Police Chief James Batelli said McIntosh had an arrest record that included charges for "disorderly persons offenses, assault, resisting arrest and promoting prostitution." However, the New Jersey group Cannabis Patriots Unite refuted Batelli's claims, calling them "slanderous and completely without merit."
Jamaican-born Peter Tosh founded the Wailers in 1963 along with Bob Marley. His 1976 solo hit "Legalize It" remains iconic for the cannabis liberation movement. As the Bergen Record recalls, McIntosh performed the song outside the New Jersey statehouse at an April 2014 rally calling on state and federal lawmakers to legalize or decriminalize cannabis.

Cross-post to High Times

Photo via Billboard