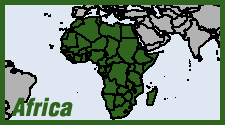 Eight police officers were arrested in South Africa March 1 after the death of a man they apparently tied to the back of a police van and dragged along a road in Daveyton, east of Johannesburg. Video footage showing the treatment of Mido Macia, a 27-year-old taxi driver and immigrant from Mozambique, went viral on the web, and was published by South African newspaper the Daily Sun. It shows how Macia's hands were tied to the rear of a police van behind his head before it moves off. Two hours later he was found dead in a cell, said the Independent Police Investigative Directorate (IPID). A postmortem gave the cause of death as head injuries and internal bleeding.
The video provoked outrage, with President Jacob Zuma labelling it "horrific, disturbing and unacceptable. No human being should be treated in that manner." The police account alleged that Macia assaulted an officer and took his firearm after officers asked him to move his taxi because it was obstructing traffic. They admitted only that there was a "struggle" to get the taxi driver into the police van.
But a disturbing second video published by the Daily Sun and provided to the Guardian casts doubt on the account. The new footage indicates Macia did not grab the gun or use violence against police, only struggling to free himself as police seized him and lifted him off his feet.
Amnesty International's southern Africa director, Noel Kututwa, said the incident was "the latest in an increasingly disturbing pattern of brutal police conduct in South Africa." Just last week, the case against Special Olympics star Oscar Pistorius, accused of murdering his girlfriend Reeva Steenkamp, was undermined when the lead investigating detective was removed from the case after being charged with seven counts of attempted murder himself. Last year's Marikana massacre, in which police opened fire on a crowd of striking miners, killing 34 at a platinum mine northwest of Johannesburg, is being investigated by a judicial commission.
Macia's case also recalled the death of Andries Tatane, a mathematics teacher and community activist, in 2011, which was also captured on video. Tatane was attacked at a peaceful protest by 12 officers who beat him with batons, kicked him and shot rubber bullets into his chest at close range. (The Guardian, BBC News, March 1)
The fact that Macia was an immigrant also seems significant, as South Africa has witnessed a wave of xenophobic violence in recent years.