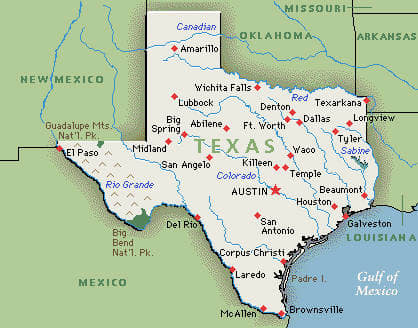 Hundreds of cannabis possession charges have been dismissed in Texas in recent weeks because police don't have labs that can differentiate between marijuana and newly legal hemp. The governor, attorney general and politicians are up in arms about it. Other states are updating their test kits to distinguish between CBD and THC in confiscated samples.
Over the course of this summer, prosecutors across Texas have dismissed hundreds of marijuana possession charges—because the crime labs they rely on don't have the capacity to distinguish between THC and CBD. Therefore they cannot determine if the substance seized by police is newly legal hemp or still-illicit marijuana.
The state's Republican leadership is not happy about this, and want it to be known. On July 18, an outraged joint letter to local prosecutors was issued on the matter by Gov. Greg Abbott, Lt. Gov. Dan Patrick, House Speaker Dennis Bonnen and Attorney General Ken Paxton. But steps to actually close this legal loophole are another matter.
Dilemmas of the Farm Bill
This turns out to be another one of the dilemmas raised by last year's US Farm Bill, which legalized hemp, and hemp-derived CBD, at the federal level. In May, the Texas Legislature passed House Bill 1325, legalizing hemp and hemp-based products at the state level—essentially bringing the Lone Star state into conformity with federal law. Gov. Abbott signed the bill into law with little fanfare in early June.

What few anticipated, it seems, is that this doesn't just make industrial hemp and CBD extract legal—it also makes cannabis flower legal, as long as it contains less than 0.3% THC. And to the eye and nose, this is perfectly indistinguishable from high-THC marijuana bud.

As the Texas Tribune reports, when the bill was pending in April, members of the Texas House Agriculture & Livestock Committee heard hours of testimony in support of HB 1325, mostly focusing on farming and regulatory matters. But near the end of the hearings, the Texas Department of Public Safety's crime lab director, Brady Mills, took the microphone to warn that DPS crime labs are currently unable to distinguish THC from CBD—they just respond to any cannabinoid. He said the labs would need new equipment, and time to bring it online, before they could have this capacity.

So the quandary was anticipated. Nonetheless, Gov. Abbott and his Republican colleagues in Austin were not forgiving in their July 18 open letter, which was reported by the Texas Tribune and Dallas Observer.

Addressing prosecutors, they wrote: "Some of you have recently dismissed marijuana possession cases or announced you will not prosecute misdemeanor marijuana possession cases without a lab test. Such actions relate to House Bill 1325 taking effect, which aligns Texas law with federal law by distinguishing hemp from marijuana in the same way federal law does... [T]ese actions demonstrate a misunderstanding of how H.B. 1325 works. First, a person claiming to transport hemp must have a certificate. Failure to have the required certificate while transporting hemp is a separate crime. Second, lab tests are not required in every case and are more affordable than initial reporting indicated. Failing to enforce marijuana laws cannot be blamed on legislation that did not decriminalize marijuana in Texas."

They did not fail to invoke the "states' rights" meme beloved of Republicans: "If the Legislature had not adopted the federal differentiation of hemp from marijuana and set its own regulatory course, Texas would be beholden to Washington's determination of what is best for Texans." (Although here it is particularly ironic, as federal marijuana enforcement has in the past been a glaring exception to the "states' rights" dogma.)

As the text of the letter makes clear, however, the certificate requirement only applies to "shipping"—not simple possession.

Recalcitrant prosecutors
So the uncooperative prosecutors are likely to remain recalcitrant—some even seem be following in the footsteps of jurisdictions such as New York City and Baltimore, which have stopped prosecuting low-level marijuana offenses for reasons to do with social justice.

Harris County District Attorney Kim Ogg (a Democrat) announced after passage of 1325 that her office will not prosecute low-level marijuana cases based on a lab report. This nearly amounts to a de facto decriminalization in Houston and the rest of the county. Her response to the governor's letter, quoted by the Dallas Observer, was curt and unyielding: "The Legislature makes laws, but courts interpret them and that will be the case in this instance. Prosecutors have an ethical duty to be able to prove beyond a reasonable doubt, and laboratory confirmation in drug cases has long been required. When a person's liberty is at stake, juries demand nothing less."

In Dallas County, District Attorney John Creuzot (also a Democrat) ceased prosecuting first-time marijuana possession cases in April, even before the legislature passed HR 1325. He was also forthright in his response to Abbott's letter: "The concentration of THC is a statutory element of an offense that we must prove to establish a person's guilt. Our office will not charge a person with a marijuana offense without a laboratory report stating that the substance has an illegal concentration of THC."

Swiss police provide techno-fix
This is a dilemma for other states as well—and some are taking measures to address it. News4 in Washington DC reports that Virginia is currently evaluating a new test developed in Switzerland precisely to distinguish between cannabis buds containing THC or just CBD.

The test, initially devised by the police crime lab in Zurich, was prompted by the same issue that Swiss law enforcement faced after Helvetia legalized hemp products for retail sale in 2011. (The Local reports that the Swiss are consuming low-THC bud, or "legal cannabis," in "record amounts.")

Virginia's official chief forensic scientist Linda Jackson told News4 that her department, in cooperation with the federal Drug Enforcement Administration, is now experimenting with the Swiss method on cannabis samples "so that we can understand the limitations of that test."


Cross-post to Cannabis Now
Photo by Greenwich Mean Time