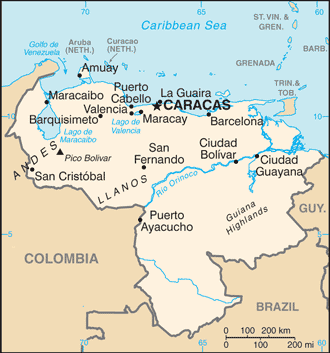 The Trump administration has seriously turned up the heat on Venezuela, slapping sanctions on the country's vice president as a drug "kingpin." The Treasury Department's Office of Foreign Assets Control (OFAC) on Feb. 13 officially named Tareck Zaidan El Aissami as a "Specially Designated Narcotics Trafficker" under terms of the Foreign Narcotics Kingpin Designation Act (Kingpin Act) of 1999. The order charges that El Aissami received pay-offs from a trafficking network linked to Mexico's Zetas narco-gang. Under the order, US nationals and corporations are barred from doing business with El Aissami, and all his assets within the country are frozen.
"OFAC's action today is the culmination of a multi-year investigation under the Kingpin Act to target significant narcotics traffickers in Venezuela and demonstrates that power and influence do not protect those who engage in these illicit activities," said John E. Smith, OFAC's acting director.
But it's hard to believe El Aissami wasn't singled out precisely because of his power and influence within Venezuela. After serving as minister of justice and interior, he was just appointed vice presdient by President Nicolás Maduro on Jan. 4. He also finds the time to simultaneously serve as the governor of Aragua state, having been elected there in 2012.

OFAC's move comes days after a bipartisan group of 34 US lawmakers urged Trump to apply new sanctions against Venezuela, alleging that it supports narco-trafficking and "terrorism." Rep. Ileana Ros-Lehtinen (R-FL) and Sen. Robert Menendez (D-NJ) co-authored a letter to Trump endorsed by 32 colleagues, specifically calling on the president to investigate El Aissam's supposed links to Middle Eastern terrorist groups.
El Aissam is the son of Syrian and Lebanese immigrants, and the OFAC statement named another Venezuelan of Middle Eastern background as overseer of the narco network that he protected: Walid Makled AKA "El Turco" (The Turk), supposed boss the Cartel de los Soles (Cartel of the Suns). Since getting extradited to Colombia to face drug charges in 2010, El Turco has been claiming that all his operations were protected by Venezuelan government. He's also titillated investigators with claims to knowledge about the operations of Lebanese militant group Hezbollah in Latin America.
These claims may or may not be true, but they are certainly useful to certain Capitol Hill agendas. There has been endless speculation about collaboration between Middle Eastern terrorists and Latin American drug cartels to infiltrate the US homeland—but very little actual evidence.

Media accounts now will probably fail to note that in his capacity as interior minister, El Aissam cooperated with the US against traffickers operating in Venezuela, including turning over to the DEA three high-level suspects who were accused of links to Los Zetas in 2010.

Cross-post to High Times