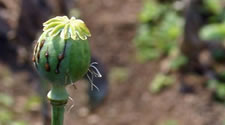 US Marines this week returned to Helmand province, now the epicenter both of Afghanistan's Taliban insurgency and opium production. Ostensibly, the mission is to train Afghan forces struggling to stem the insurgency, but they certainly have the power to fire if fired upon. Many of the 300 Marines coming to Helmand under NATO's Resolute Support training mission are veterans of previous tours in the province—where almost 1,000 coalition troops (mostly US and British) were killed fighting the Taliban before they pulled out in 2014. When they left, as part of that year's supposed "withdrawal" of US troops from Afghanistan, they handed over the sprawling desert base they dubbed Camp Leatherneck to the Afghan army, hoping not to return.
Now they have.
The reasons are clear. US Defense Secretary James Mattis warned of "another tough year" in Afghanistan when he arrived in Kabul last week, Al Jazeera notes. Afghan security forces now control less than 60% of the country, and are in danger of losing Helmand province entirely. The Taliban currently control 10 of the province's 14 districts—their offensive apparently funded by a bumper opium crop. Some 30,000 people were displaced by fighting in the province last year, with most fleeing to provincial capital Lashkar Gah. The city is now itself in danger of being besieged by the Taliban.
Despite the "withdrawal," the US still has about 8,400 troops in Afghanistan—although officially no longer in a combat role. There are another some 5,000 from NATO allies. Gen. John Nicholson, the US commander in Afghanistan, recently called for thousands more to help beat back the fast-rising Taliban insurgency.
And eastern Nangarhar province—a secondary opium heartland, on the Pakistani border—may be following Helmand out of control. Afghan military and police forces are carrying out aggressive opium eradication campaigns there, the local Khaama Press reports. But the situation is complicated by the emergence of an ISIS insurgency. This has seemingly led to a three-way war between government forces and the rival Taliban and ISIS insurgencies.
A May 1 clash between the Taliban and ISIS forces in Nangarhar's Chaparhar district claimed several casualties among both insurgents and local residents, Khaama reports.
Afghanistan's booming opium crop conitnues to provide a goad for war, and with the US still effectively at war in both Iraq and Syria the quagmire beckons again.

Cross-post to High Times
Photo by Tennessee Wanderer