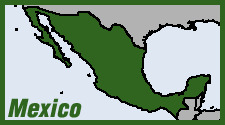 The US Treasury Department's Office of Foreign Assets Control (OFAC) on Sept. 21 imposed Kingpin Act sanctions on four Colombian nationals and 12 companies said to be linked to Joaquín Guzmán Loera AKA "El Chapo"—head of Mexico's Sinaloa Cartel. Guzmán faces charges in the US, but remains at large. (WSJ Corruption Currents blog, Sept. 20) The move comes amid increasing charges that US law enforcement—as well as the Mexican government is favoring the Sinaloa Cartel in Mexico's bloody narco wars.
"The perception that people have of the government not going after the Sinaloa Cartel is undermining its credibility," said Alberto Islas, a security analyst with Risk Evaluation Ltd., noting that the group's leaders "are the biggest smugglers of cocaine, meth and heroin into the US." Such critics charge that the US and Mexican governments are aggressively pursuing Los Zetas, which emerged in the 1990s as the paramilitary arm of the Gulf Cartel but has since gone its own way, fighting the Gulf and Sinaloa cartels alike. The Zetas, led by deserters from the Mexican army, use notoriously bloody methods, while the Sinaloa Cartel—which US officials say provides about 25% of the illegal drugs smuggled into the United States—generally favors bribing government officials to protect their smuggling routes.
On July 25, the White House issued an executive order naming four groups around the world as transnational criminal threats. Along with Los Zetas, the order named the Yakuza of Japan, the Camorra of Italy and the Brothers' Circle of Russia. Rafael Lemaitre, a spokesman for the White House Office of National Drug Control Policy, said the order didn't include the Sinaloa Cartel because its activities were limited primarily to drug trafficking, while the Zetas had branched into a "variety" of other crimes, such as arms and human trafficking. He added: "We already have a robust sanction regime" — the Kingpin Act — "that targets organized [criminal groups] that engage mostly in drug trafficking, such as Sinaloa."
Other government depictions make clear, however, that the Sinaloa Cartel is an international criminal syndicate. "The cartel functions like a transnational firm, with operations in over 40 countries," US Attorney Laura E. Duffy of the southern district of California told the Senate drug caucus June 15. "Its reach is believed to extend across the Pacific to Australia and Japan and across the Atlantic to Eastern Europe, Italy, Portugal, Spain, Germany and several African nations." (McClatchy, Aug. 23)
Several alleged associates of La Familia Michoacana were arrested in El Paso, Tex., Sept. 22, in a nationwide crackdown dubbed "Project Delirium." DEA officials said agents arrested five men and one woman in the raid, which marked the first time that presumed La Familia associates were arrested in El Paso area. DEA officials said that Project Delirium led over the past two years to nearly 2,000 arrests and the seizure of more than 7 tons of marijuana, 3 tons of cocaine, more than a ton of methamphetamine, and $62 million in cash. La Familia has religious pretensions, barring its followers form using drugs and declaring that its killing are God's will. Previous busts in El Paso's metropolitan area have targeted the Juárez Cartel. (El Paso Times, Sept. 22)
Gunmen dumped the tortured and mutilated bodies of 35 people under an overpass filled with motorists Sept. at Boca del Rio, a fashionable tourist district on the outskirts of Veracruz. The victims are believed to be Zetas killed by Gulf Cartel rivals. (LAT, Univision, Sept. 20)