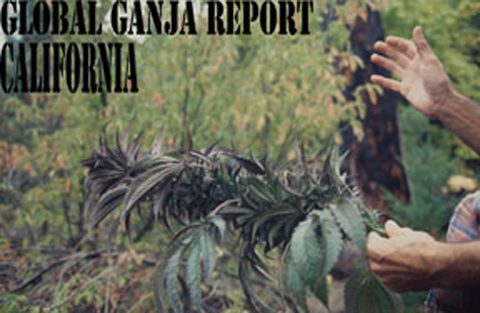 In California's far-north Siskiyou County, where last month supervisors voted to declare a "state of emergency" over illegal marijuana cultivation, the hardline Sheriff Jon Lopey has now appealed to US Attorney General Jeff Sessions for federal aid in his war on cannabis.
"I told him what the situation was here ... [that] you should be concerned, because most of this illicit cannabis is going across state lines to other states, to contaminate other jurisdictions," Lopey summed up his letter to Sessions, according to the Redding Record Searchlight of Oct. 4. "Don't forget the rural counties."
A spokesperson for the federal Justice Department responded to the Record Searchlight's query about the letter, but was not immediately able to confirm receipt. Lopey declined to provide a copy to the paper. A representative of the California Office of Emergency Services said the agency is still weighing Lopey's request for aid
Lopey's efforts to suppress illegal grows in the county have seen frequent raids, with an estimated $273 million in cannabis seized over the past year. In fact, big militarized raids have continued across the Emerald Triangle, even as California is on a countdown to legalization. But Siskiyou authorities are being particularly aggressive.

Local KOBI5 TV reported Oct. 5 that both California Highway Patrol and National Guard troops joined Lopey's deputies in 19 raids that day, with 50 warrants served on grow operations over the past weeks. Said Sgt. Mike Gilley, who oversees the county's Marijuana Eradication Team: "This area has just exploded with gardens, it seems to be getting more and more every year. We hit these ones and then sometimes they get replanted a week or two later."

According to the report, deputies said each grow usually holds at least 100 plants. They said the majority of the marijuana is getting shipped to the East Coast, where plants rake in $5,000-$6,000 each. By their reckoning, one garden can yield around $550,000.
Does this add up? A yield of one pound per plant is very optimistic. And Forbes reported in January that with the cannabis bubble finally bursting, prices have taken a nose-dive. The magazine cited industry website CannaSaver as finding that wholesale marijuana prices declined in 2016 from $2,500 to $1,000 per pound, with an ounce fetching as little as $65. Prices are certainly higher on the East Coast, where we can generously assume a pre-bust price of $300 for an ounce of the good stuff, which would at least get us in the ballpark of Lopey's figures. But there's a lot of middle-men taking a cut by the time it gets down to retail sales. So the notion that a single garden is reaping over half a million in sales is dubious at best, and the notion that such sums are making it back to Siskiyou County is frankly asburd.

And in any case, the idea that cannabis is a "contaminating" substance is pretty out of step with an America that is rapidly embracing medical marijuana and outright legalization. Let's hope Siskiyou County catches up with the times.
Cross-post to High Times
Graphic by Global Ganja Report