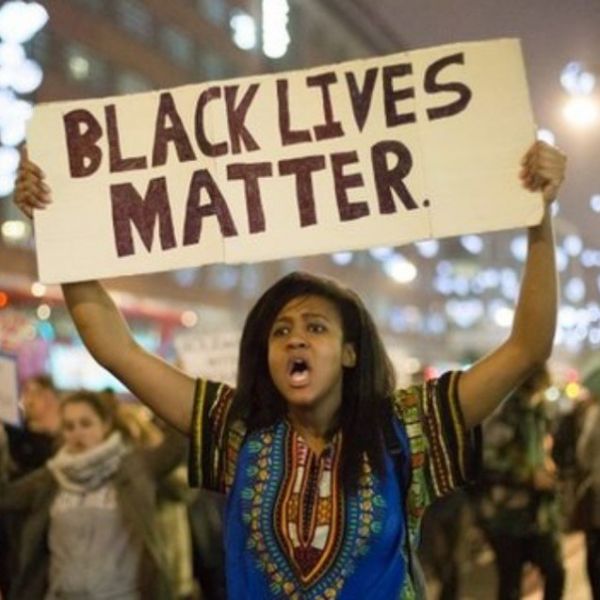 Protests broke out in Minnesota's Twin Cities the night of June 16, after the acquittal of a police officer in the notorious slaying of Black motorist Philando Castile—a St. Paul school cafeteria worker who was 32 at the time of his death. As I write, the first arrests are taking place, as thousands of demonstrators attempt to shut down Interstate 94. Black Lives Matter protesters are again mobilizing in cities across the country.
The July 2016 shooting was particularly egregious. Pulled over in a traffic stop, Castile was killed with his seatbelt on, reaching for his ID after calmly informing the officer that he was carrying a legally registered firearm. His girlfriend Diamond Reynolds and her four-year-old daughter were in the car at the time. Reynolds live-streamed a video of the bloody aftermath on Facebook with her cell-phone, relating what had just happened with astounding composure as Philando bled and died in the seat next to her—the cop's pistol still trained on her.

Nonetheless, officer Jeronimo Yanez of the suburban St. Anthony police force was cleared of "culpable negligence" and all other charges.
"I am so disappointed in the state of Minnesota," Castile's mother Valerie Castile said at a news conference after the verdict. "My son loved this state. He had one tattoo on his body and it was of the Twin Cities—the state of Minnesota with TC on it. My son loved this city and this city killed my son. And the murderer gets away."

As so many times before, cannabis again plays a key role. The defense in the case maintained that Yanez acted in self-defense—and that the shooting wouldn't have happened if Castile hadn't been high on marijuana.
Defense attorney Earl Gray said Yanez had to react quickly to what he believed was an imminent threat. He said Yanez smelled marijuana, believed Castile matched the description of a recent robbery suspect, and feared he was grabbing his gun. "We have him ignoring his commands. He's got a gun. He might be the robber. He's got marijuana in his car," Gray told jurors. "Those are the things in Officer Yanez's head."

No cannabis was actually found in the vehicle, although a blood test posthumously performed on Castile came back positive for THC. The defense team succeeded in getting the judge to declare evidence of Castile's past cannabis use as admissible.

We'd love to know how smelling cannabis translates into an imminent threat. It seems that even at this late date—with several states having legalized—using cannabis is sufficient to get a man killed with complete impunity in the United States of America. Especially if he's Black.

The illegality of cannabis raises the stakes in every police interaction where the substance is on the scene—or even, in this case, if it no longer is on the scene—and increases the likelihood of escalation. Then, the irrational stigma that attaches to the plant even now is used to tar the victim. When will it be generally recognized that legalization is not just an issue for white guys who want to get rich off dispensaries—but a literally life-and-death matter of basic human rights and racial justice?

Cross-post to High Times
Graphic: Checkin Trapps