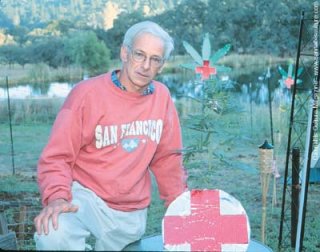 Reports are breaking that Dennis Peron, longtime San Francisco cannabis activist and co-author of California's 1996 medical marijuana initiative, was raided at his home Aug. 4. Citing posts on Facebook, a report on Examiner.com says that Peron, who was recovering from a stroke, suffered a seizure as city police broke down his door.
The Examiner report cites one Leland Cole saying on Facebook that it was "detective Vegas, (partner of the narc who shot Dennis in '78)" who broke down his door. Cole reports that Peron was held overnight, and is at home recovering.
Peron's longtime friend, New York-based cannabis activist and veteran Yippie Dana Beal, posted to Facebook: "They tried to kill Dennis Peron. Narcs broke down his doors. He had a seizure as detective Vegas (partner of the narc who shot Dennis in '78) took him into custody on a trumped-up warrant that was thrown out less than a day later!"
On April 26 on this year, Peron confirmed to the SF Weekly that he'd suffered a stroke.
Last month, Peron came out in the 420 Times against Proposition 19, the new California legalization initiative, on the libertarian grounds that cannabis should not be taxed. The Berkeley Daily Planet on Aug. 3 cited him as one of the activsts who oppose Prop. 19 as too restrictive.
Photo: Dennis Peron publicity shot