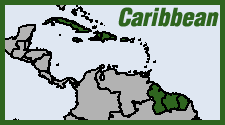 As a commercial cannabis industry is established in Jamaica, more Caribbean nations are moving toward decriminalization and establishing medical marijuana programs. Saint Vincent & the Grenadines was the latest to take this move, and it looks like Saint Kitts & Nevis will be next. Dominica and Grenada are studying such proposals, and cannabis tourism is anticipated.
With regional leader Jamaica having recently exported its first cannabis products to Canada, other island nations of the Caribbean are readying their own proposals for either decriminalization, a legal medical market for cannabis, or both.

Saint Kitts to decriminalize, embrace medicinal
The Lesser Antilles nation of Saint Kitts & Nevis is the latest to move toward a liberal cannabis policy following the announcement last month that the government has formally accepted the recommendations of a special commission called to study that mater. Prime Minister Timothy Harris said in a statement that his government will adopt all "recommendations presented by the St. Kitts & Nevis National Marijuana Commission in its final report to the Cabinet on the way forward for the use of marijuana in the country."

Under the proposal, the nation's Drugs Act will be amended "to develop a medical cannabis industry and allow use for medicinal purposes." The proposal would also remove criminal penalties for anyone caught with 15 grams or less, or five plants or fewer. Encouragingly, all those already convicted for these quantities will have their criminal records expunged. Sanctions will remain for public use.

The government is preparing to introduce legislation to the country's parliament enacting the reform.

First cultivation licences in St. Vincent
In December, Saint Vincent & the Grenadines became the first member of the Organization of Eatsern Caribbean States (OECS), the community of Lesser Antilles nations, to decriminalize cannabis and establish a medical marijuana program. The government is now preparing its first licenses for cultivation.

This has given encouragement to advocates elsewhere in the Lesser Antilles. In an interview with Saint Lucia's The Star this week, the chairman of that country's Cannabis Movement, Andre DeCaires, discussed to the moves in neighboring Saint Vincent. He warned that Saint Lucia against "dragging our feet," and urged launching its own industry. "We have already lost one investor; I have to let you know. They'll be going to St. Vincent."

Continuing up the Lesser Antilles chain, Dominica could be the next to pursue a cannabis economy. In December, Dominica's President Charles Savarin called on Israel to assist the Caribbean Community (CARICOM) in establishing medical marijuana research and a cannabis industry in the region.

In November, Dominica's government opened a "national consultation" on cannabis decriminalization, with Prime Minister Roosevelt Skerrit urging stakeholders to come up with feasible ideas that would inform his administration's final position on the issue. A report on results of the consultation should be forthcoming.

Jamaica leading the way
In the Greater Antilles, Jamaica's new legal cannabis industry is making strides. Jacana, a newly launched local cannabis company, recently completed the country's first legal export of Jamaica's famed ganja. The delivery went to the Vancouver facilities of Canadian cannabis-testing firm Anandia late last year. Jacana last week announced it has raised $20 million to develop a cannabis export industry for the international market.

The company's chief executive officer Alexandra Chong told the Jamaica Observer this month: "Jacana has made a long-term commitment to ensuring the Jamaican cannabis industry thrives. We will be launching programmes later this year that will share, collaborate and educate on industry best practices with small farmers to encourage more Jamaicans to cultivate medical cannabis that will meet international standards"

Chong emphasized the country's tradition of bush medicine. "Growing up in Jamaica, I witnessed first-hand the benefits of natural medical solutions," she added. "We believe that nature has the best answers. Jacana's mission is to provide natural medicine that people can trust, enabling them to live full and meaningful lives by improving their well-being, their health, and their happiness."

Chong applauded the work of Jamaica's new Cannabis Licensing Authority to establish regulations for the new industry. "I can confidently say that Jamaica is on par with countries like Canada and Germany with the speed at which it's enabling patient access to medical cannabis," she said

Cannabis tourism foreseen —of course
In a region where tourism is a major player, this inevitably entering into plans for the cannabis economy.

In Grenada, a prominent criminal attorney is calling on the government to take immediate steps to accommodate Canadian visitors who need to use cannabis for medicinal purposes. Anselm Clouden, a vocal advocate for decrim, told the Caribbean Media Corporation last year: "Grenada now needs to take steps to protect the thousands of Canadians who will be visiting the island for business or pleasure." He warned that failure to accommodate Canadian cannabis users "is going to do tremendous harm to the tourism industry."

Jerry Rappaport, president of the Grenada Hotel and Tourism Association, anticipates tourism-friendly cultivation facilities on the island. "You could ultimately end up with marijuana farms that could be handled like vineyards," said.

Hugh Riley of Barbados, secretary general of the Caribbean Tourism Organization, is openly advocating cannabis tourism. He rhetorically asked the travel publication Skift: "No one knows yet if we had a big ganja festival, who would come?"

We think it's a pretty good bet plenty would.
Cross-post to Cannabis Now