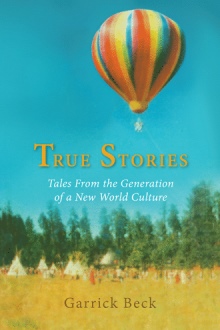 In his new memoir True Stories: Tales from the Generation of a New World Culture, Garrick Beck spans a personal journey through radical bohemia in the 1950s, hippie utopianism in the 1960s, back-to-the-land communalism in the 1970s, to applying those ethics today through community work and urban land-reclamation back in the New York City of his youth.

He was born into artistic activism as the offspring of Julian Beck and Judith Malina, the leading figures of the Living Theatre.
Early vignettes describe ban-the-bomb street-theatre actions amid the Cold War hysteria of his childhood, with beatnik legends like Allen Ginsberg and Jack Kerouac making cameos.
After the Living Theatre is effectively exiled to Europe by political repression here at home, the vistas expand, leading to the naked and acid-fueled performances of "Paradise Now" and vision quests in the desert of Morocco.

Back in the states as a young man, the action shifts to the West Coast, and a nomadic lifestyle, chasing his communal vision at hippie happenings. This culminates in the birth of the Rainbow Gatherings—they've been going every summer since the first one at Strawberry Lake, Colorado, in 1972. For all the hedonism and political quietism often associated with this movement today, the roots were intensely idealistic.

After years pursuing the good life and practicing organic agriculture on the Rainbow Farm in Oregon's Coast Range, starting in the '80s Beck returns periodically to New York, helping to reclaim urban blight for community gardens on Manhattan's Lower East Side.
This is a book about seriously applying an anarcho-pacifist vision to real life, with a sense of roots and utter commitment.