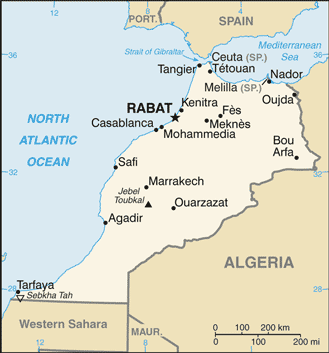 Over the past weeks, authorities in Morocco and Spain have unleashed sweeps against hashish smuggling networks, arresting hundreds. One ring was reportedly using Serbian ex-military helicopter pilots to ferry product across the Strait of Gibraltar. This heightened militarization is disappointing, as a legalization initiative in Morocco—the world's top cannabis producer—fell victim to political unrest and intrigues last year.
Spain has long been the main gateway for Moroccan hash into Europe, but authorities both side of the Strait are getting all too serious about disrupting the contraband trade. Authorities in Morocco actually arrested 644 in just 48 hours in a counter-narcotics operation in the northern city of Ouida, Italian news agency ANSA reported Feb. 17.

And while Morocco's border with Algeria is officially sealed, it clearly also remains porous to hash making its way toward European markets. According to the same ANSA report, police in the border area arrested 533 people and seized over 20 kilograms of hashish, with smaller quantities of heroin and other contraband.
Dramatic events are meanwhile reported from across the Strait in the Spanish port town of La Línea de la Concepción. On Feb. 8, some 20 hooded gunmen stormed into the local hospital, where their injured ringleader was being held. They overpowered police on guard there, and made off with the accused hash-smuggling ringleader, Samuel Crespo Dominguez, according to Spain's El Pais newspaper.

A few days later, the judge investigating the break-out was surrounded and intimidated by a group of about 40 hoodlums—including some believed to be participants in the hospital raid, Britain's The Independent reports.

That same week, 10 were arrested—including one minor—in a fracas that ensued after a police patrol confronted a group of youths dressed entirely in black, with balaclavas covering their faces, in La Linea's notorious La Zabal district. These are also said to be local enforcers for the ring. Crespo Dominguez remains at large and is believed to have fled to Morocco. An international alert has been issued for him, Euro Weekly News tells us.
Also in mid-February, Spanish police carried out a special operation against a hashish ring that was apparently using helicopters to ferry in product from Morocco. A total of 18 arrests were reported—including two Serbian ex-military helicopter pilots. The arrested pilots were said to be experts in night flying at low altitude and without lights to avoid detection. Spain's Guardia Civil seized two helicopters in what was dubbed "Operation Andalusía-Serrania."

The investigation began last year following the discovery of a helicopter hidden on a finca (estate) in the mountains of Andalusia's Serrania de Ronda. A second helicopter was discovered in December as it was carrying out a suspected "narco-flight" from Sevilla to Morocco. After that, the Guardia went into action, executing four searches in the provinces of Malaga and Sevilla, by Euro Weekly News' account.

Moroccan forces have also been carrying out interceptions at sea. In the most recent, a unit of Morocco's Royal Marines seized a vessel that was sailing in a "forbidden zone" off Tangier. A mixed crew of Spanish and Moroccan nationals was taken into custody, and an investigation is underway to determine if they are connected to the "considerable quantities" of hashish found near the "incident site"—presumably, they had dumped their haul when they realized they were about to boarded. Meanwhile, they are being held on "illegal navigation" charges, according to Morocco World News.

All this is particularly tragic, as Morocco seemed to be tentatively finding its way out of the "drug war" dystopia just last year, with parliament considering proposals to legalize cannabis cultivation—at least for medicinal and industrial purposes. Advocates argued this was the best way to daylight what is already a mainstay of Morocco's economy, and wean it away from the narco-gangs.

But last August, Ilyas El-Omari, a leader of the progressive opposition bloc in parliament and the main advocate of the legalization proposals, was abruptly forced to step down. He represented the Rif Mountains, Morocco's hashish heartland. His resignation came after King Mohammed VI gave a speech implying he was behind a wave of angry youth protest that had swept the Rif in recent months.

Being called out by the king (even if not by name) is a serious thing in Morocco, and El-Omari said he stepped down to preserve social peace. But legalization efforts have since languished.

The youth uprising, of course, was related to lack of economic opportunity—other than the contraband economy. Typically, authorities bait those proposing courageous solutions as trouble-makers to silence them—heedless of the vicious cycle at work.
Cross-post to Cannabis Now
Graphic: Perry-Castañeda Library Map Collection