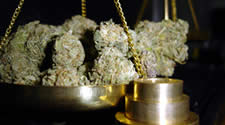 Two men wearing clown masks and wielding handguns burst into the Creme de Canna medical marijuana dispensary in Santa Cruz Feb. 2, forcing employees to turn over the contents of the safe before fleeing. The hit mirrors one on Dec. 15, when two men wearing carnival masks held up the city's Herbal Cruz dispensary. (San Jose Mercury News, Feb. 2) The heists come amid growing concerns about gunplay in the West Coast cannabis industry, exacerbated by the frequent refusal of local authorities to issue concealed handgun permits to medical marijuana users. Such policies by mostly rural counties on the West Coast and elsewhere were dealt a blow by the US Supreme Court's recent refusal to hear an appeal of a lower court decision upholding the rights of permit-holders who use cannabis legally under state law.
The case concerned Cynthia Willis of Gold Hill, Ore., a retired school bus driver and longtime concealed handgun permit holder. Willis was refused a renewal of her permit by the Jackson County Sheriff's Office on the grounds that she a is a registered medical marijuana user. In 2008, Willis went to court over the matter.
Jackson County Sheriff Mike Winters argued that issuing the license would violate federal law—specifically the Gun Control Act of 1968, which forbids anyone who uses or is "addicted" to a controlled substance from possessing a firearm. A court initially ruled for Willis, but the sheriff appealed. When Willis prevailed again, Winters went to the Oregon Supreme Court. The state's highest court also agreed with the lower courts, finding that the 1968 law gives the states authority to set their own rules for gun ownership and concealed weapons permits. Winters then had the county legal team take the case to the US Supreme Court. In early January, the federal high court declined to hear the case, along with a similar gun-permit case from Washington County, Ore. Winter was forced to provide concealed handgun licenses to Willis and other medical marijuana patients.
NORML attorney Lee Berger, well-known activist lawyer in Oregon, saw the case from the lower courts on up. He said he hopes this message from the Supreme Court will force other sheriffs to respect the rights of medical marijuana patients. The case has cost Jackson County about $50,000 in legal fees. (Opposing Views, Jan. 12)
Photo by the Mad Pothead